AntiMosquitos ISDIN XTREM
Insect repellent
Spray
Protects the whole family in extreme conditions and tropical areas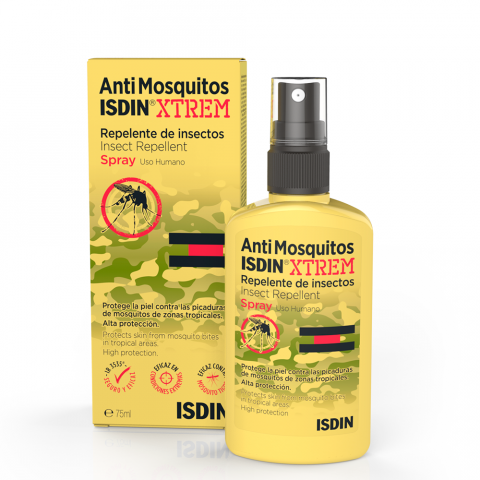 Spray 50 ml - CN: 1675798
Nº Reg. A.E.M.P.S: 563-PLAG
Overview
Mosquito repellent. Especially recommended for high prevalence extreme conditions and areas with a high risk of transmission of tropical diseases.
Suitable for children from the age of three and adults. If you need to use a repellent in kids under 3, consult a pediatrician. Use with caution with kids under 6.
Benefits
Forms a highly-protective barrier on skin against mosquito bites and other insect bites (6 to 8 hours protection).
Proven efficacy as a broad-spectrum repellent, including tiger mosquito and tropical species. Effective in tropical areas for up to 5 hours.
Practically non-toxic repellent (does not contain DEET).
Combines uniquely efficacy, safety and cosmeticity. Non-oily and non-sticky on skin.
How to apply
Apply and spread evenly over the skin of the exposed areas to be protected. Do not spray directly to the face, apply it to with the hands carefully spread avoiding eyes and mouth.
Wash your hands thoroughly after applying the product.
Use biocides safely. Always read the label and product information before use.
Composition
3-(N-butyl-N-acetyl).
Ethyl aminopropionate (IR 3535) 30%.
Partially denatured ethyl alcohol 33%.
Excipients q.s. 100 ml.