Nutratopic Rx
Dermatological adjuvant in cream
Atopic skin
Reduces the need for medication by half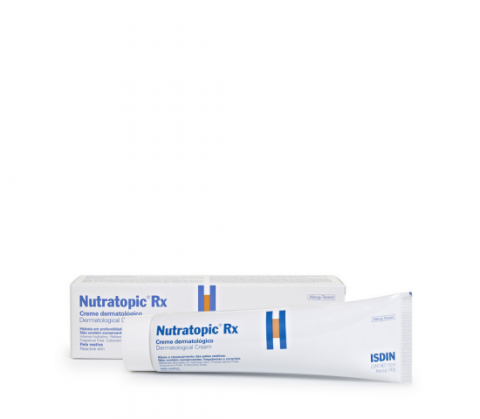 Overview
Alleviates the symptoms of atopic skin. Dermatological adjuvant indicated for atopic outbreaks of any intensity.
Benefits
Its use as an adjuvant during an outbreak allows pharmacological treatment to be reduced:
- The need to use corticosteroids and topical immunomodulators is reduced by 52%
- The need to use antihistamines to manage itchiness is reduced by 46%.
Effectively combats the signs of atopic dermatitis: itchiness, redness and inflammation.
How to apply
During an outbreak, apply twice a day to the affected areas.
In combination with topical medication, apply 1 hour before the pharmacological treatment.
Composition
Rhamnosoft
Laureth-9
Glycine
Niacinamide
Ceramide 3
Omega 6
Shea butter
Glycerin
Fatty oil