Isdin Si-Nails
Nail-strengthening treatment
Perfect nails in one click. Visible results in just 14 days.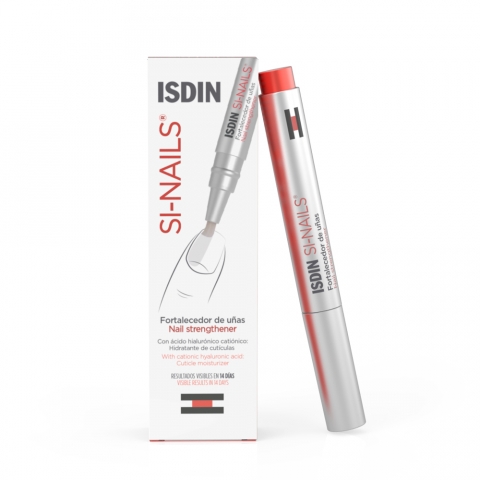 Overview
Strengthens your nails with an invisible finish and easy application Its combination of ingredients supplies nails with more keratin, more hydration, more silicon and more protection. Visible results in just 14 days.
Benefits
A nail-strengthening treatment developed specifically to protect and improve the appearance of nails to restore their natural appearance. Contains hyaluronic acid, which boosts cuticle hydration. Invisible finish and easy to apply. Its combination of active ingredients promotes nail growth and increases their resilience, helping to prevent breakage and supporting nail remineralisation and restructuring. Visible results in just 14 days.
How to apply
Apply every day to clean, dry nails (without nail polish). Use the moistened brush to paint along the entire edge of the nail and cuticle. Move the brush vertically from inside out, covering the entire surface of the nail. If possible, also pass the brush under the nail.
Composition
Main ingredients: Cationic hyaluronic acid: with great power of adhesion to skin, hair and nails which enables it to maintain its hydration capacity longer.
Mastic oil (Pistacia lentiscus): Stimulates the synthesis of hard keratin and keratin-associated proteins, increasing nail thickness and strength.
Organic silicon: penetrates nails easily, supporting their growth and quality.