Lambdapil Anti-hair loss
Lotion
Increases the thickness of your hair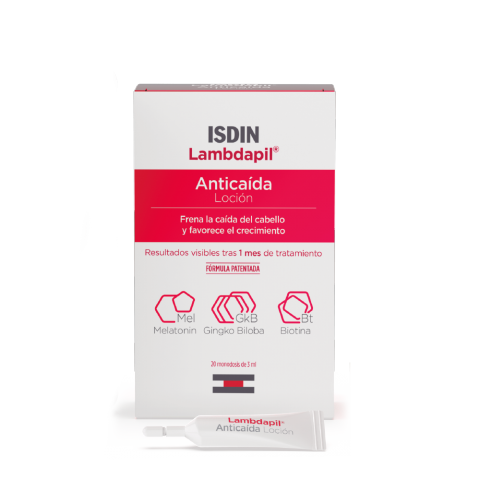 Overview
Treatment of androgenetic alopecia and alopecia diffusa for men and women.
Benefits
First patented formula that works by creating a protective microenvironment for the hair follicle.
Melatonin, a powerful antioxidant that neutralizes free radicals and also promotes new hair growth, boosts the anagen phase and delays cell apoptosis.
Ginkgo biloba activates hair follicles, increasing their nutrient intake.
Nourishes and strengthens. Its biotin content improves the hair's structure and increases hair thickness.
How to apply
Apply the product to dry scalp and lightly massage before going to bed.
Apply 1 monodose daily, 5-7 days a week for 3 months.
For best results, continue treatment with Lambdapil Anti-hair Loss Lotion for at least 3 more months.
Composition
Melatonin, Ginkgo biloba and biotin