Reading:
3
minutes
So you know the sun causes more than just sunburn; it causes visible signs of aging on your skin. And as the years pass by, it may become more and more apparent. Or perhaps there's an expert inside of you who wants to know more about sun-induced skin aging and what to do about it. Either way, the effects of the sun on our overall look is astounding. Keep reading to find out!
Skin aging, sun aging, photoaging: What does it all mean?
Over time, our skin may show signs of aging such as wrinkles, lack of firmness, and hyperpigmentation. Aging is not just down to the passage of time though, despite what you'd think: external factors like high levels of pollution, tobacco, stress, or sun exposure can alter skin appearance and even its structure – these external factors are called the exposome.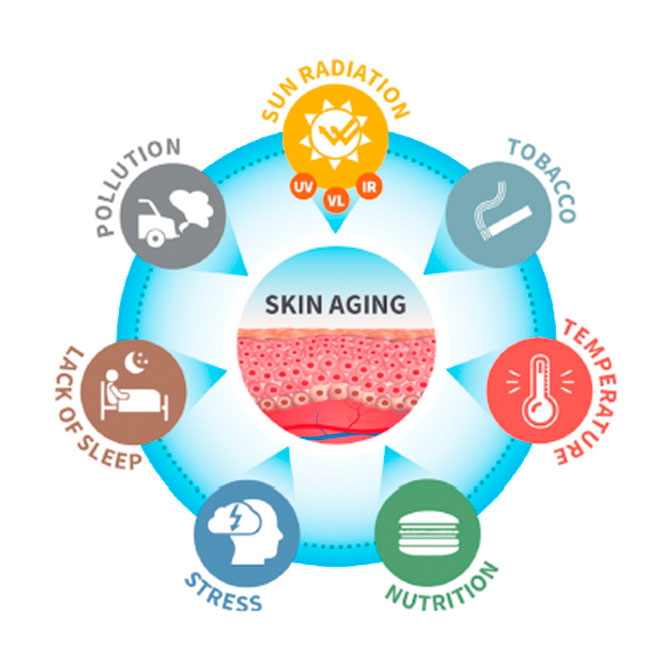 The external factor with the biggest impact on the skin – by far – is the sun. In a 2013 study, F. Flament et al. studied the effect of sun exposure on facial aging, known as photoaging, with fascinating results.
Keep in mind that dermatologists often refer to photoaging by other names—photodamage, solar damage, or the more general term sun damage. Here at ISDIN, we call it photoaging.
What percent of aging is caused by the sun?
The investigative study involved 298 Caucasian women in Montpelier, France (where the skin is naturally exposed to high levels of radiation from the sun). The women were divided into two groups according to their habits regarding sun exposure:
157 women that actively looked for sun exposure (sun-seeking women)
141 women that avoided sun exposure (sun-phobic)
The investigation used women with different skin types: dry, oily or combination, and the study was also well-balanced across different phototypes.
The results? Eighty percent of visible aging on the face is from the sun.
Through the study, researchers found that the sun is greatly responsible for visible aging in a woman's face (including wrinkles and pigmentary disorders). While that might seem like a huge percentage, it means that 80% of skin aging can also be protected against and repaired over the years. Let's take a look at how.
How do you help prevent further sun damage?
It's possible to help prevent additional sun damage. Hence why we always say the following: it's never too late to start your photoaging beauty routine! To help with that, we've broken this down by category to best tackle skin woes caused by sun damage.
Repairing wrinkles caused by sun damage
Wrinkles in general, especially around the lips, are signs that can make a person look older than their age earlier. Both wrinkles and skin texture are influenced by the natural aging process and photoaging (aging caused by the sun), depending on your attitude to the sun and how much you are exposed.
In Flament et al.,'s study, evidence showed that the 'sun-seekers' had more wrinkles than the 'sun-phobic' women, especially after the age of 50.

Repairing hyperpigmentation caused by sun damage
Pigmentation disorders may appear as a loss of color (for instance around the eye area) or through hyperpigmentation that results in dark spots on our skin. According to the study, pigmentation mostly occurs through photoaging rather than the natural aging process, meaning that the 'sun-seekers' had more pigmentation disorders regardless of their age.
Photoaging has an impact on our appearance and the effect of UV exposure increases with age, meaning that the older we are, the more the sun affects our skin.
Flament et al.'s conclusion was clear: sun exposure results in premature aging of our face.

"Indeed UV exposure seems to be responsible for 80% of visible aging signs."


Flament et al.
Effect of the sun on visible clinical signs of aging in Caucasian skin.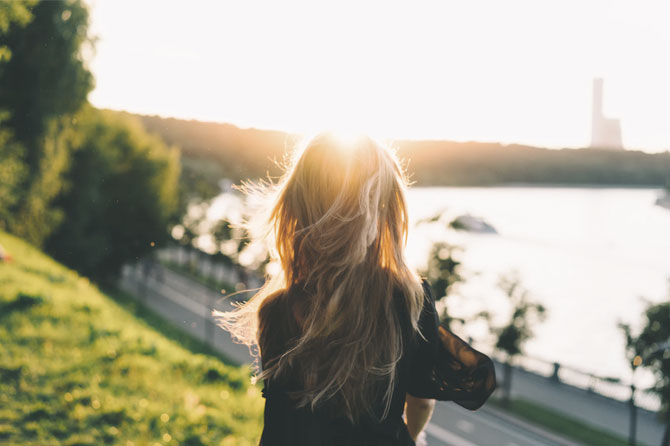 The sun makes you look older, especially when you are younger

The researchers conducting the Flament et al. study wanted to understand how photoaging affects our age in the eyes of others. We often perceive that there is a difference between how old someone looks and what their real age is. There are clues that help us to estimate someone's age, but facial features are where most look to first.
30 volunteers were asked how old they thought the women in the study were, and the results were then compiled. Almost unanimously, the women who had experienced some degree of photoaging were perceived as older than their actual age. The women, on the other hand, who protected themselves from the sun – the 'sun-phobics' – in general were perceived as younger.
The effects of sun damage on our skin are serious, but it is never too late to start taking care of your skin! Start taking the right steps now to protect from UV rays, repair existing damage and correct the visible signs of aging. Check your UV index right now here!
Read more on how to protect your skin against photoaging.


Sources:
Flament et al., Effect of the sun on visible clinical signs of aging in Caucasian skin. Clin Cosmet Investig Dermatol, 2013, https://www.ncbi.nlm.nih.gov/pubmed/24101874
Behind the blog:
Article written and reviewed by: