Reading:
4
minutes

You might have heard the term 'photoaging' on social media recently, or seen it in your local dermatologist's office – and if you're no stranger to ISDIN and our products, we're sure the concept of photoaging is familiar to you. If not, don't worry. We're about to delve deeper into what exactly photoaging is, why we care about it so much, and how you can create a complete photoaging routine for both morning and night.
(Remember you can take our personalized skincare products quiz to discover your skin type, personalized routine & exclusive tips)
Photoaging: what it means
Photoaging is aging of the skin caused by exposure to ultraviolet radiation (UVA/UVB) – primarily from the sun. While it's commonly understood that exposure to UV radiation through the sun's rays without protection contributes to your risk of developing skin cancer, the effect of the sun on the skin's aging process is often overlooked. 80% of visible skin aging, in fact, occurs as a result of sun damage.

Growing old, and our skin with us, is absolutely a part of life and happens to everyone. However, skin damage accumulates over time and can make us look older than we actually are. Thankfully, there are steps that we can all take to help decrease the damage, and protect against it, contributing to younger, healthier-looking skin.

How can I create a skincare routine to combat photoaging?
The essential pillars of a photoaging routine are: protecting the skin from the sun and the effects of pollution, repairing existing damage, and correcting the visible signs of aging. It's never too early or too late to be proactive with your skin.
Protect your skin from photoaging

The first line of protection against the sun's rays and UV damage is sunscreen. A broad spectrum sunscreen with a high protection factor should be worn every day on exposed areas of skin (particularly those which are often forgotten about, like the ears, neck, and hands).

Sunscreen is essential year-round, and should be applied for every two hours of sun exposure. If you're swimming, or exercising (e.g sweating), apply more often – every 40 minutes.

Repair existing damage

In your daily routine, either once or twice a day, incorporate products which will both help to neutralize free radical damage, and support structures in the skin like collagen and elastin.

For this step, serums are a great choice, as they contain highly effective ingredients and are formulated especially as a treatment step for the skin. Look for a serum which contains antioxidants to help boost your skin's defense system, while also helping to repair existing damage to the proteins in the skin.

Correct the visible signs of premature aging

Incorporate products in your routine which contain ingredients that help even skin tone and reduce the appearance of dark spots. Use products which moisturize the skin and reduce sagging. You can also use a lightweight makeup product designed to cover discoloration and imperfections, and mix it with moisturizer or sunscreen to make a custom-made BB cream.
A basic skin routine for photoaging care
Now that you know what kind of products you should be looking for in your skincare routine, let's see how you should be applying them, and in what order.

1. Morning and evening step one: cleanser
Cleansing removes impurities and dirt from your skin, even if you don't wear makeup, in addition to preparing your skin for the following routine steps. A morning cleanse can help to get rid of excess sebum (oil) that your skin produces overnight, leaving you feeling fresh. Make sure to use a gentle cleanser that won't strip your skin and make you feel dehydrated, especially if you have sensitive skin. A product that cleanses and hydrates in one simple step, such as a micellar water, is a good choice for both morning and evening use.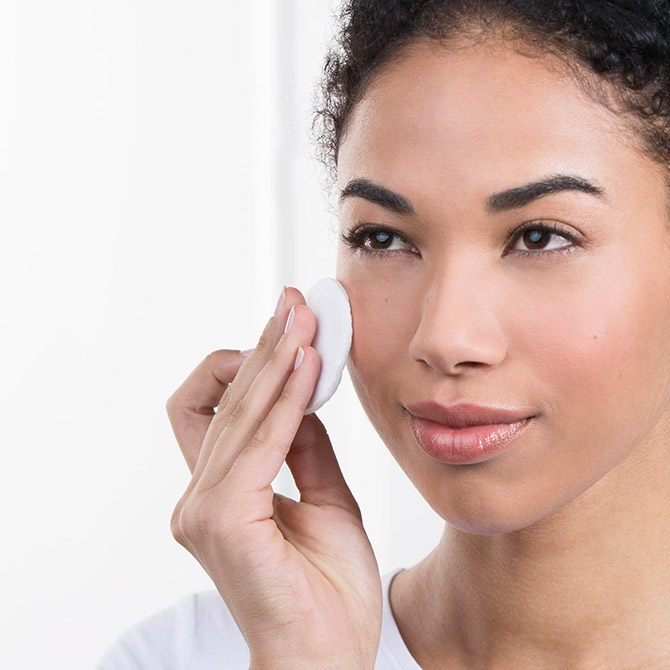 2. Morning and evening step two: serum
After cleansing, use a serum to hydrate your skin and provide it with some nourishing care. For a photoaging routine, choose a serum which contains antioxidants and will provide you with the preventive and protective care you need. Look for serums which contain antioxidants such as vitamin C, green tea, vitamin B3 (niacinamide), or ginkgo biloba, for example – potent antioxidants which can help protect the skin from damage and correct visible signs of aging. At ISDIN, you have excellent options like our vitamin c and melatonin serum.
Read more: antioxidants to include in your routine

3. Morning and evening step three: moisturizer
Both morning and evening, apply a nourishing moisturizer which will both provide you with a boost of long-lasting hydration and help your skin recover from external stresses. You can use the same moisturizer both morning and evening: look for a product with an anti-aging focus that will help rejuvenate the skin and provide it with the hydrating care it needs.
4. Morning step four: sunscreen
In the morning – and throughout the day – sunscreen is an essential part of any photoaging routine. Sunscreen is vital in protection against UV radiation, and you should be using one with a high SPF to protect against skin aging and skin cancer.

Look for a broad spectrum sunscreen which will protect you from both UVA and UVB rays, and reapply your sunscreen every two hours during sun exposure. If you're sweating (e.g doing sport) or swimming, you should re-apply more often – the same goes after toweling off at the beach or exercising.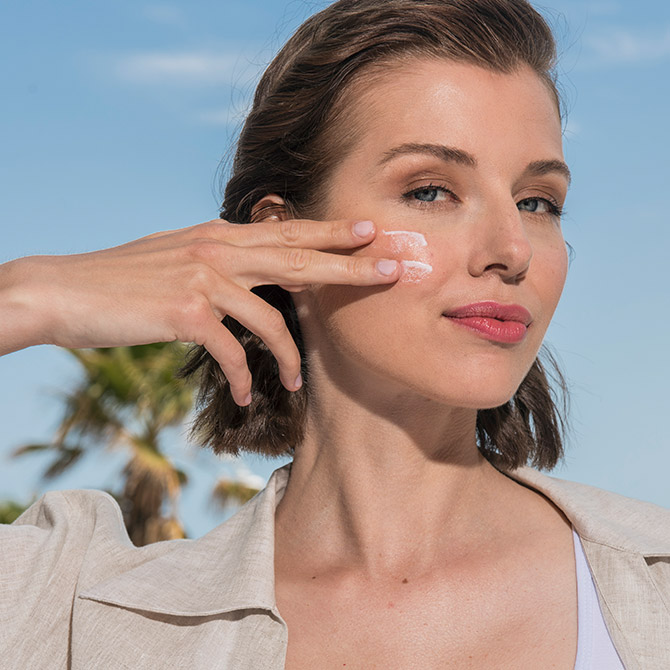 5. Morning step five: lightweight foundation
If you wear makeup, and are looking to correct the visible signs of aging, a foundation which covers imperfections and blemishes can be included in your routine. This last step is optional, but if you're looking for day-to-day correction, a lightweight makeup product with adjustable coverage can be included in your morning skincare routine.
These simple steps are the basics behind a complete photoaging routine for protection and repair against sun damage, but that doesn't mean that you have to stop there! You can combine these steps with additional products for any other skin concerns you might have, such as eye cream to combat dark circles.

ISDIN's mission is to provide the perfect range of products which can either be combined or used individually to help you fight against the visible signs of photoaging. You can check out our full range on our website, or read more about our products through exploring this blog.
Sources and references:
Flament et al. Effect of the sun on visible clinical signs of aging in Caucasian skin. In Clinical, Cosmetic and Investigational Dermatology (2013); 6: 221-232
V., Skukla, P., Kikkeri, NN. Antioxidants in dermatology. In Indian Dermatology Online Journal. 2014 Apr-Jun; 5(2): 210–214.
https://www.fda.gov/consumers/consumer-updates/tips-stay-safe-sun-sunscreen-sunglasses
Behind the blog:
Article written and reviewed by: