Reading:
3
minutes

Our Eryfotona sunscreens are two of the bestselling products on isdin.com, so it stands to reason that they're also two of the products that we receive a lot of queries about! We love answering your questions, and as so many of you have been asking us what the difference is between Eryfotona Actinica and Eryfotona Ageless, we're only too happy to help. Read on to learn more about our Eryfotona sunscreen range!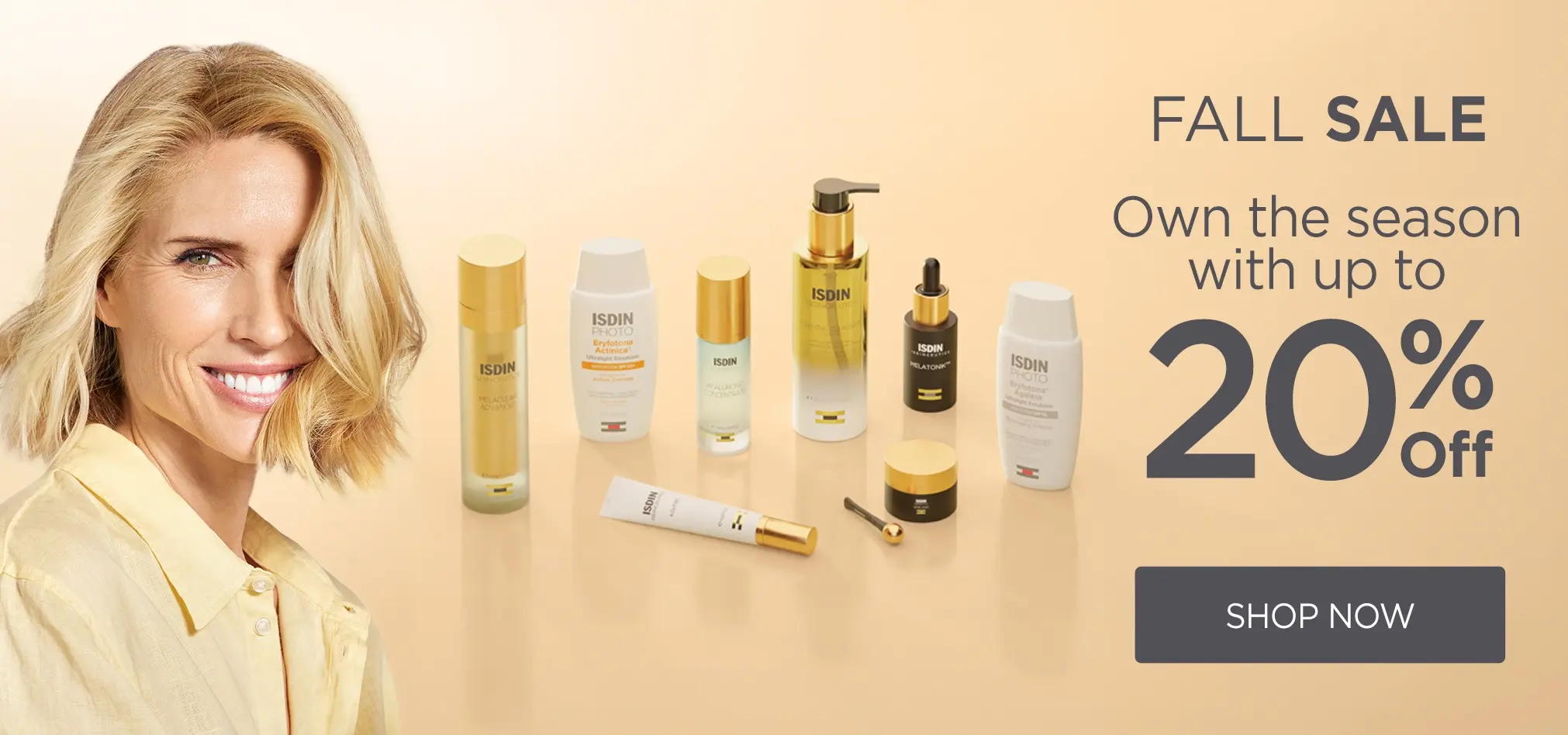 What do Eryfotona Actinica and Eryfotona Ageless have in common?
Both Eryfotona sunscreens are part of ISDIN's new generation of sun protection formulas, which use the latest in formulation design to create sunscreen that goes beyond protection. Both sunscreens offer a high SPF with an ultralight texture which absorbs rapidly into the skin, with a non-greasy, non-chalky finish so often experienced with mineral sunscreen formulations.
The unique Eryfotona formulation protects skin from sun damage as a sunscreen, but in addition, it helps to repair existing sun damage in the skin through the use of DNA Repairsomes®. What are DNA Repairsomes®? Known otherwise as photolyase, DNA Repairsomes are enzymes derived from plankton, which recognize and directly help to repair UV-induced skin damage.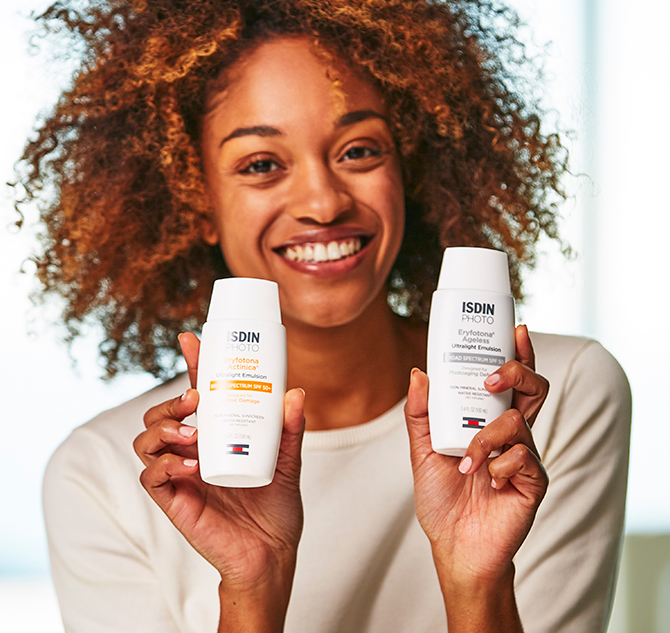 Eryfotona Actinica and Eryfotona Ageless provide broad spectrum protection from the sun's rays, and are also water resistant for up to 40 minutes, meaning they will protect your skin for up to 40 minutes while in water or while doing sports.
In addition, both formulas contain:
Zinc oxide, a 100% mineral sunscreen which provides your skin with sun protection by effectively blocking the sun's harmful UVB and UVA rays (ultraviolet light).
DNA Repairsomes®, naturally occurring photolyase enzymes derived from plankton, which have been clinically proven to repair sun damage in the skin.
Vitamin E, an antioxidant which helps boost your skin's natural defenses. This protects against environmental damage and helps skin fight the premature signs of aging.
Eryfotona Actinica, designed for actinic damage
First things first, what is actinic damage? You probably understand actinic damage under a more familiar name – sun damage. Actinic damage represents changes in the skin, as a result of excessive sun exposure.
The sun emits ultraviolet light, and this can interfere with the skin's repair mechanisms which normally help your skin to protect your skin from outside aggressors. When these repair mechanisms are overwhelmed by too much sun exposure, negative results can be seen in the skin including thickening, wrinkles, changes in skin tone, and a potential progression to pre-cancerous (actinic keratosis) or cancerous lesions.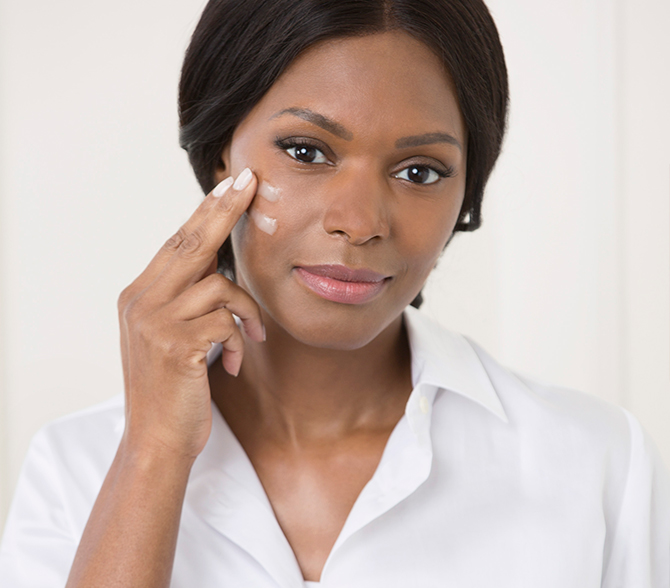 Eryfotona Actinica is an ultralight, all-mineral sunscreen which is designed to both protect your skin from this damage, while helping to repair existing damage too.
In addition to 100% mineral sun protection, Eryfotona Actinica uses antioxidants to help boost the skin's natural defenses. Antioxidants help to protect the skin against environmental damage, while also fighting the signs of premature aging in the skin.
Eryfotona Ageless, designed for photoaging defense
Eryfotona Ageless is an all-mineral tinted sunscreen designed to protect the skin while targeting the signs of premature aging accelerated by the sun.
80% of skin aging is caused by the sun. Through repeated exposure to ultraviolet light, the skin's natural aging process is accelerated, including the appearance of fine lines and wrinkles, skin pigmentation, and skin flaccidity and dullness. Sun damage isn't always immediately apparent, and these changes accumulate as the years go by. That's why it's important to not just protect your skin from the sun, but to look for ingredients that help to repair this existing photodamage. Eryfotona Ageless is designed to offer this photoaging protection.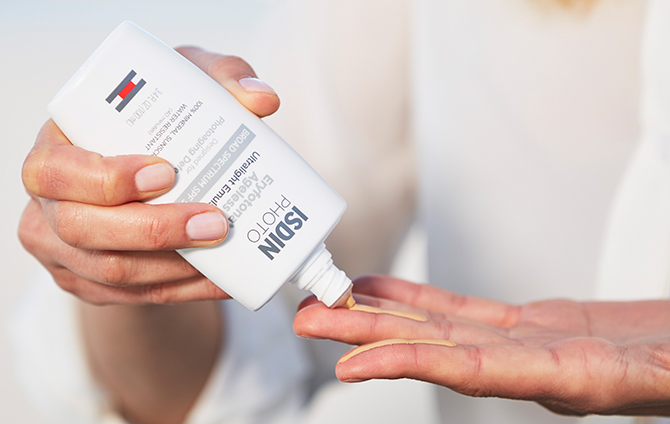 Eryfotona Ageless contains a blend of anti-aging peptides and antioxidants, in the form of a Peptide Complex, Peptide Q10, and vitamin E. This unique blend helps to keep skin cells healthy, boost elasticity, and reduce the appearance of fine lines and wrinkles. The versatile tint also helps skin look more even in tone and corrects visible imperfections, helping reduce the appearance of signs of photoaging in the skin.
So which do I choose? Eryfotona Ageless or Eryfotona Actinica?
Eryfotona Actinica's ultralight formula absorbs quickly into the skin with no greasy, sticky finish – so it's great to use under makeup. The no-fuss application makes it the ideal everyday sunscreen, no matter your lifestyle. Slip it into your purse, gym bag, or even your pocket to stay protected all day long at work, while exercising, or while out enjoying the sunshine!
Eryfotona Ageless provides a flawless finish, thanks to its versatile tint, making it an essential addition to any makeup bag. Skip the foundation and go straight in with Eryfotona Ageless for a beautiful tinted finish to your skincare routine, with all the benefits of sunscreen! You also won't have to worry about touching up your makeup, as you'll be reapplying this tinted formula throughout the day for the sun protection you need.
Discover the benefits of ISDIN Eryfotona sunscreens by exploring our full sun care range and special sun care sets, designed to protect your skin all summer long.
Sources and references
Puviani M, Barcella A, Milani M. Efficacy of a photolyase-based device in the treatment of cancerization field in patients with actinic keratosis and non-melanoma skin cancer. G Ital Dermatol Venereol. 2013;148(6):693-698.

Behind the blog:
Article written and reviewed by: