Reading:
3
minutes
This week we went to visit Paloma Borregón, head of the Dermatology Unit at the Beteré Clinic in Madrid, so she could explain to us during a live Instagram video organised by ISDIN with the participation of Cristina Mitre, a journalist and blogger specialising in beauty, what the exposome is, what effects it has on our skin, the importance of protecting ourselves against the sun every day and how to combine ISDIN products to create an effective anti-aging routine.
What is the exposome?
The word "exposome" has been used a lot recently in discussions on the causes of skin aging, but do you know exactly what it refers to? The exposome is the sum of all the factors to which we are exposed and which act on the genome from the day we are born to the day we die. Over time, it has been seen that 80% of our aging is influenced by 7 factors and that only 20% is determined by our genes.
Exposome of the skin is defined by 7 external factors that affect our cutaneous aging:
Solar radiation
Tobacco
Temperature
Nutrition
Stress
Lack of sleep
Pollution
The sun is principally responsible for the aging of our skin
Solar radiation is the factor that most accelerates the skin aging processes. Accumulated chronic solar damage makes us age worse and not only this, but it also increases the risk of suffering from skin cancer. This is why it is very important to protect ourselves from the sun from young, in order to avoid childhood sunburn, which may eventually contribute to the appearance of skin cancer.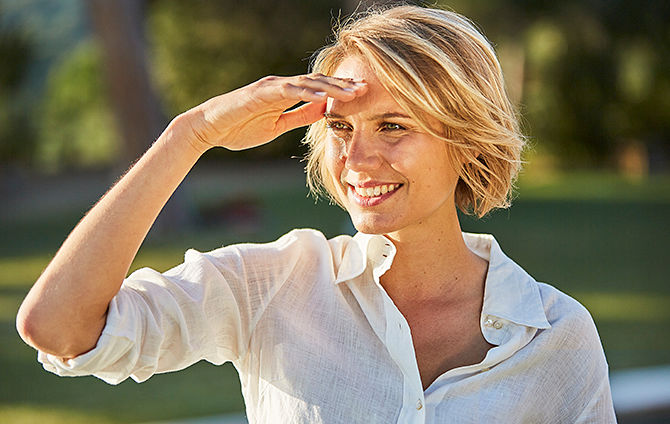 "Childhood sunburn doubles the likelihood of suffering from melanoma as an adult."

DR PALOMA BORREGÓN
Also, we usually only worry about solar radiation when we think of summer, but every day we are exposed to UV rays, through car windows, office lights…. and using a photo-protective cream every day minimises the risks of this exposure.
"We think that sunscreen is only necessary in summer and we are not aware that we are exposed to solar radiation 365 days a year."

CRISTINA MITRE
How does pollution affect our skin?
As we have seen, the sun is not the only factor that affects skin aging, environmental contamination is also very harmful.
The pollution caused by tobacco, heavy metals in the environment, CO2 emissions, as the main examples, adhere to our skin during the day and eventually cause damage to our cells by causing oxidative stress in our skin. It also stimulates the production of melanin which increases the appearance of dark spots.
How can we reduce the effects of the exposome on our skin?
The effects of solar radiation and pollution on our skin are added to the effects of smoking, extreme temperatures, a bad diet, stress and a lack of sleep…. This is why it is very important to have a healthy life style which leads us to eat healthily, exercise, discover new horizons and look after our skin.
To prevent the signs of aging on our skin it is important to use cosmetics that help to combat solar radiation and the effects of pollution.
A beauty routine to combat the effects of the exposome
Combine good cleansing with an antioxidant serum
It is important to remove make-up and cleanse skin morning and evening Even if we don't wear make-up, residues of pollution accumulate on our skin so it is important to cleanse it. Micellar water like ISDIN Micellar Solution helps to remove any residues of dirt in one go while it removes make-up, cleanses, tones and moistures the skin, leaving it ready to apply the other products of our daily routine.
Furthermore, antioxidants such as vitamin C, present in the daytime ampoules ISDINCEUTICS Flavo-C Ultraglican and the night-time ampoules ISDINCEUTICS Melatonik, that help to reduce the oxidative damage caused by free radicals, activate collagen production and restore the skin's luminosity.
Use sunscreen every day
Use facial sunscreen every day. The sun is responsible for 80% of our skin's aging and to prevent this it is vital to get into the routine of using sun protection 365 day a year, even when the sun is not shining.
"The cream that I use every day is a sunscreen. There is no better cream, no better anti-wrinkle or anti-aging treatment than a sunscreen."

DR PALOMA BORREGÓN
What do you think will be the sunscreen of the future? The one you are going to want to use every day.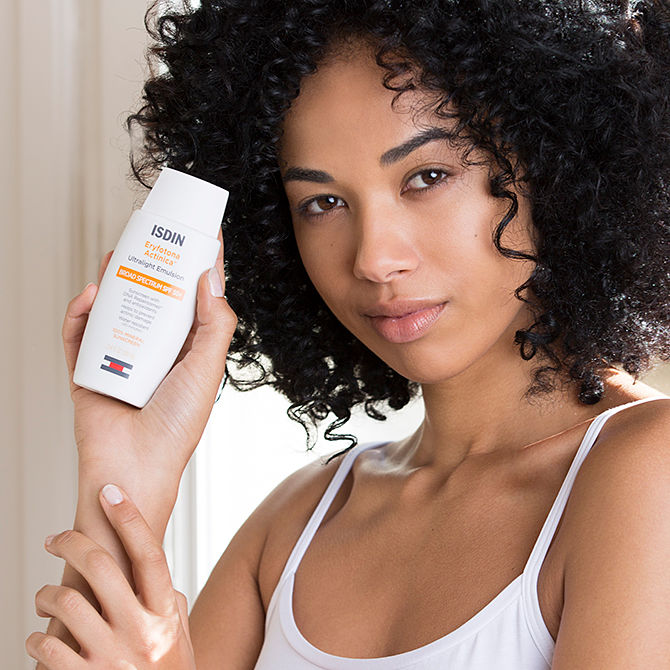 ---