Reading:
4
minutes
Protective face coverings are becoming a new part of normality, slipping into our everyday lives. While face coverings have been worn in various parts of the world for decades, as a tool to help slow the spread of viruses, their use is entirely new for many of us.
Face masks are now recommended by the CDC in public settings to help slow virus transmission, but continuous use can sometimes irritate the skin. However, with the right care, and the right protection, face coverings and healthy, happy skin are compatible. Read on for five tips to take care of your skin while wearing a face mask.
1. Cleanse more frequently
Cleansing is an essential part of any skincare routine, but if you're wearing a face covering more frequently than usual, you really need to make sure cleansing is part of your daily routine. Wearing a mask can cause more sweat and moisture to build up on the skin. Face coverings can also increase sebum production, meaning those with acne or a tendency to develop spots may notice more frequent outbreaks.
When you take off your mask, wash your hands and cleanse your face. Now that we're washing our hands more frequently than ever, we also need to make sure we pay attention to the face, too, and improve on our regular cleansing routine. When increasing the number of times a day you cleanse, be sure to use a gentle cleanser which helps remove impurities, dirt, and sweat, while being kind to skin. Try a gentle micellar water such as ISDIN Micellar Solution, which is very simple to use – all you need is a cotton pad – and respects your skin's natural moisture barrier.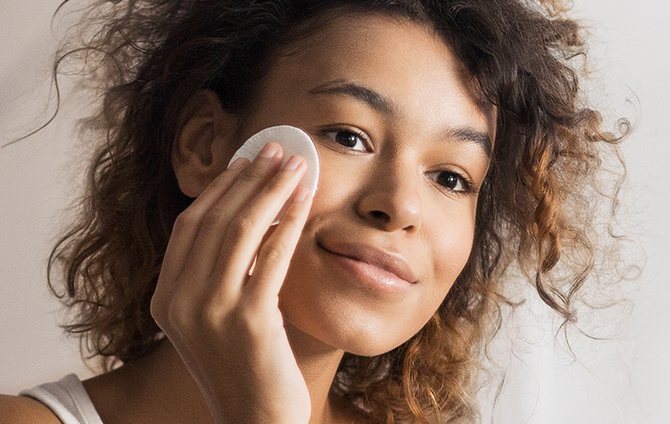 2. Keep your skin hydrated
You probably already include hydrating products in your skincare routine, but now the moisturizing step is more important than ever. As you're washing your face more frequently, you need to counteract this with more moisturizing, to help keep your skin's natural moisture barrier intact.
Your moisture barrier is essential, helping your skin to defend against environmental stress, such as sun damage, pollution, and dirt. Make sure to use moisturizer in your skincare routine when you're wearing a face covering.
Another problem you may notice is that your skin becomes slightly more irritated, or you experience more redness in the skin as a result of wearing a face covering. If you find that your mask rubs, you could use petroleum jelly on the skin, or a band-aid, in the areas where it's most bothering you. Skin treatments such as serums, with restorative, reparative ingredients can also help with redness and skin under stress. Try incorporating a hydrating night serum in your PM skincare routine such as ISDINCEUTICS Melatonik™, which works while you sleep to help your skin recover from daily stresses.
3. Use sunscreen
As part of your face is covered, you might be tempted to turn a blind eye to your regular sunscreen use. Don't give in! Just because you're wearing a face mask doesn't mean you can forget about sun protection. It's not clear how much of the sun's UV radiation reaches the skin through masks, and you won't be keeping your face entirely covered with one, so parts of the skin will be exposed. Apply a mineral sunscreen such as Eryfotona Actinica every morning before sun exposure, taking care to apply under your face covering too. 
As we spend more and more time outdoors, and return slowly to our normal routines, a face covering won't be an all-day accessory. You may find you remove it in situations where you're walking alone, or when you eat outside. Therefore sunscreen application is vital, as a mask won't be protecting you from sun damage in moments like this.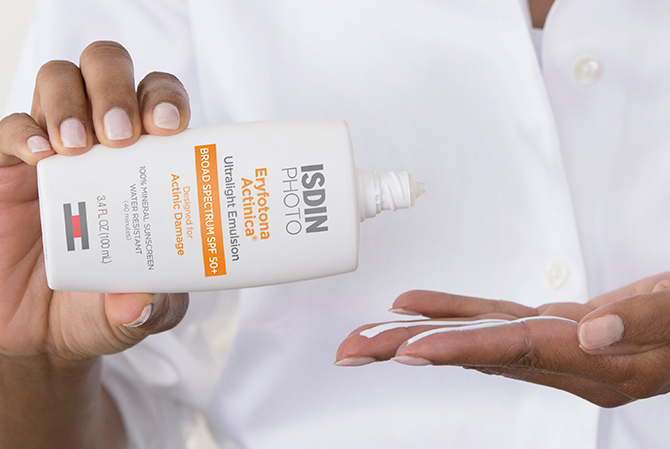 4. Avoid using a lot of makeup
Some kinds of makeup can obstruct your pores, and in some cases add to irritation if your mask does rub on the skin slightly. In addition, your makeup look is bound to smudge once it's under material for a significant amount of time! Now's a great time to forget about the makeup, and if you really don't want to go without, focus on your eyes! Forego heavy foundation, and stick to sunscreen with a sweep of eyeliner or eyeshadow if you feel your look is incomplete.
Remember that you'll also be washing your face more frequently, so you won't want to keep removing and re-applying your makeup all day long. All the more reason to give your skin a break!
5. Reapply, reapply, reapply!
Remember that cleansing and moisturizing isn't just a once-a-day thing, especially while you're wearing a face covering. Cleanse and hydrate both before using your mask, and when you take it off. You may need to reapply your moisturizer more than once, for example after taking your mask off at lunch, and then when you get home at the end of the day.
The golden rule of sunscreen, mask or no mask? Reapply! Reapply your sunscreen as you normally would – every two hours, or more frequently (every 40 minutes) when swimming or sweating. Apply sunscreen again after towel-drying, even if two hours or 40 minutes haven't passed. Slip a sunscreen into your bag or pocket, and take it with you wherever you go to make reapplication easier.
Tip: Set an alarm on your phone to remind you when you need to reapply sunscreen. That way you'll never forget when you're out and about! 
Behind the blog:
Article written and reviewed by: