Reading:
3
minutes
oIf ampules aren't already in your skincare routine, they certainly should be. These little vials have fast become the European gold standard of skincare innovation: packed with potent ingredients, they are the perfect way to give your skin the targeted care it needs.

If you've already decided that ampoules are your skin's perfect match, but don't quite know where to start, this guide will help you understand which of the ampoules in our newly launched ISDINCEUTICS range is right for your skin. Read on to find out the best ampoule to include in your skincare routine!
The best ampoule for your skin concern
Ampoules for your face are a fantastic choice to target particular skin concerns. Ampoules contain concentrated ingredients, with minimalist formulas designed to work for specific skin concerns. So, before you include skincare ampoules in your routine, it's a good idea to understand your skin, and what specific concerns you want to tackle by using them.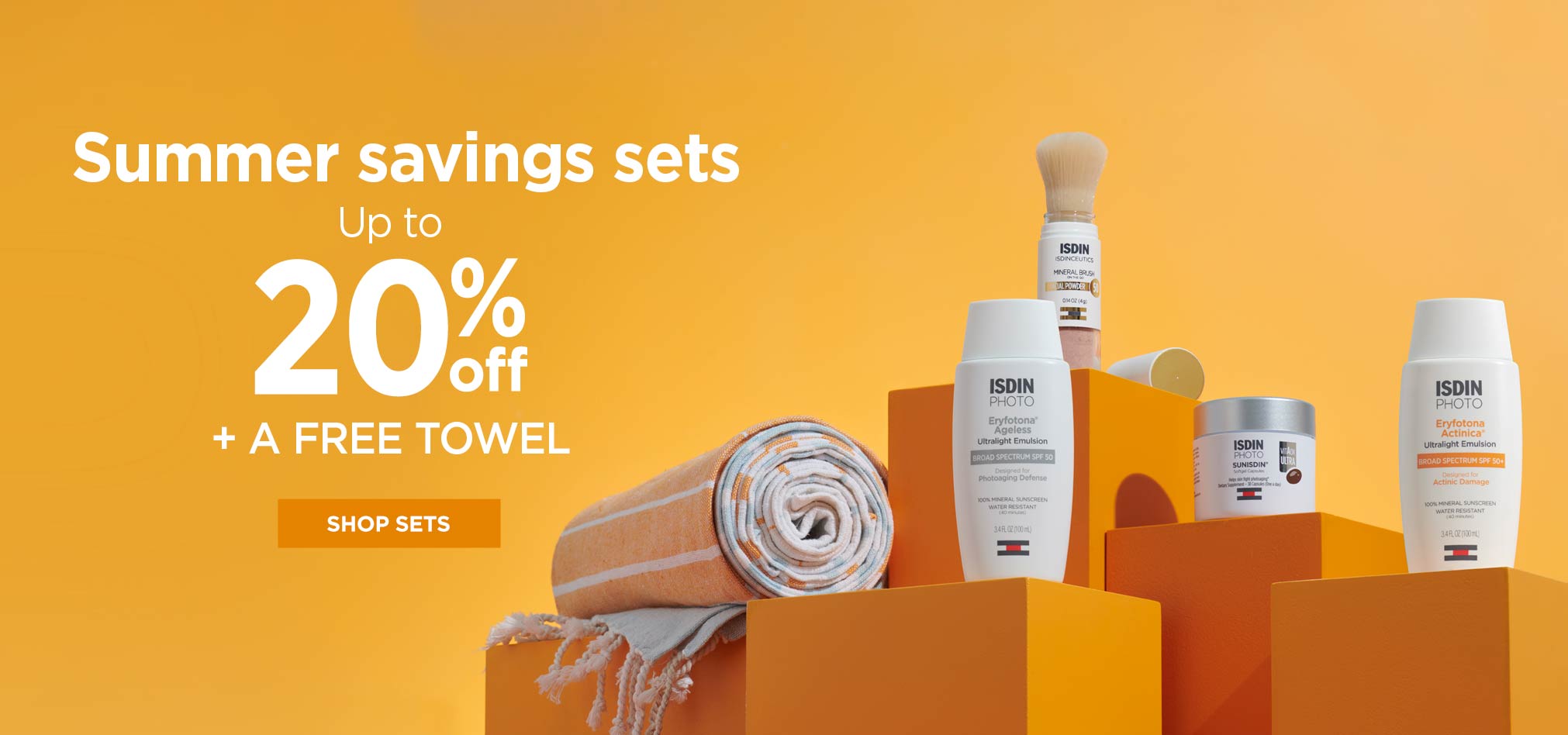 Dry or dehydrated skin
While dry skin is actually a skin type (such as oily or combination skin), it can also be a specific skin concern if it isn't something you regularly experience. Skin can become dry or dehydrated depending on the season, and this is much more common in the winter months when generally, humidity drops.

Ampoules are a good way to tackle dry or dehydrated skin, as their formulas are generally hydrating, with a lightweight, fast-absorbing texture. Look for ingredients which will deeply moisturize, delivering a boost of hydration, such as hyaluronic acid.
Your ISDINCEUTICS ampoule match: The full range of ISDINCEUTICS ampoules contains hydrating ingredients. For an especially deep dose of hydration, providing an instant radiant glow, your best ampoule match is our vitamin C ampoules for face Flavo-C Ultraglican.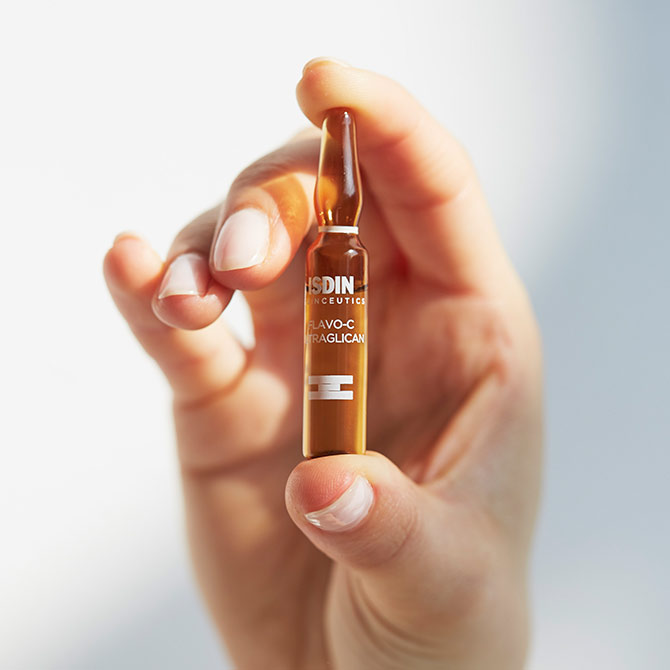 Dark spots, dullness, or uneven skin tone
Irregular patches or uneven areas of skin with discoloration can be influenced by a variety of factors, including sun damage, the natural aging process, and skin conditions.

Your key ampoule for uneven skin tone? One that focuses on brightening and correcting, to help minimize the size and appearance of discoloration in the skin. It's important to remember that even skin doesn't come overnight: to really see the benefit of a brightening ampoule, extended use over at least three months will allow you to experience better results.

Your ISDINCEUTICS ampoule match: Pigment Expert, which contains pigment-correcting ingredients designed to brighten and unify discoloration in the skin.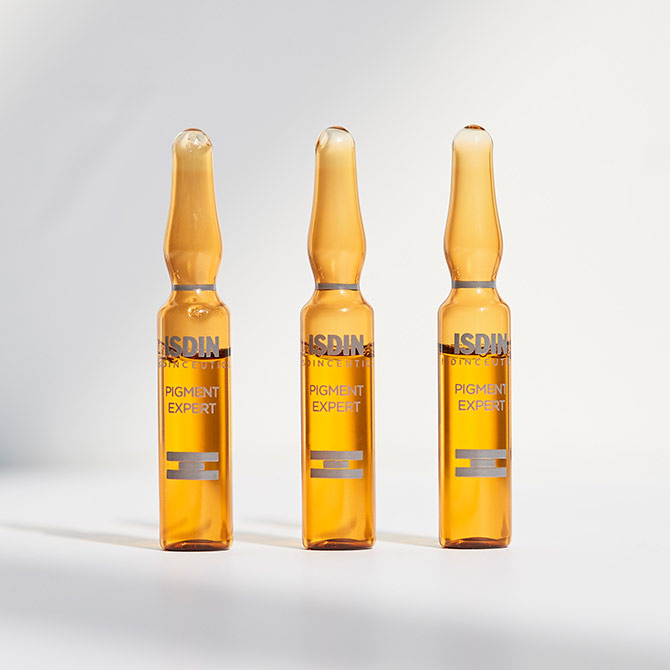 Fine lines and wrinkles
Of course, fine lines and wrinkles are a natural part of the aging process, and if you're comfortable with their appearance, there's no need to tackle them! However, if you feel that fine lines and wrinkles are showing up earlier than they should be, or if you want to help slow down their appearance, there are different kinds of ampoules you can use.

One option is to use an ampule which offers protective care: look for ampoules with antioxidants, such as vitamin C, which combat the process of oxidative stress and help slow the signs of premature aging – like fine lines and wrinkles.

Another option is to use an ampoule with exfoliating properties, which will help to renew skin over time, smoothing it and softening the appearance of fine lines and wrinkles.

Your ISDINCEUTICS ampoule match: For protective care, Flavo-C Ultraglican's supercharged vitamin C power is the ideal choice. Night Peel contains alpha hydroxy acids (AHAs) that provide gentle exfoliation, helping to reduce the appearance of fine lines and wrinkles. 

Uneven texture
While uneven skin tone describes the difference in color in your skin, uneven texture describes how smooth your skin is to the touch. Bumps, blemish marks, flaky skin or dryness, and roughness can all contribute to uneven texture.

If your goal is touchably soft skin, then the best ampoule for your needs is one which will give exfoliating care. When dead skin cells build up, they can make your skin look and feel uneven – so getting rid of those cells will help reduce uneven texture and make skin feel smoother.

Your ISDINCEUTICS ampoule match: Formulated to be gentle and kind to skin, Night Peel contains plant-derived AHAs which stimulate exfoliation in the upper layers of skin, helping it to feel smoother and softer.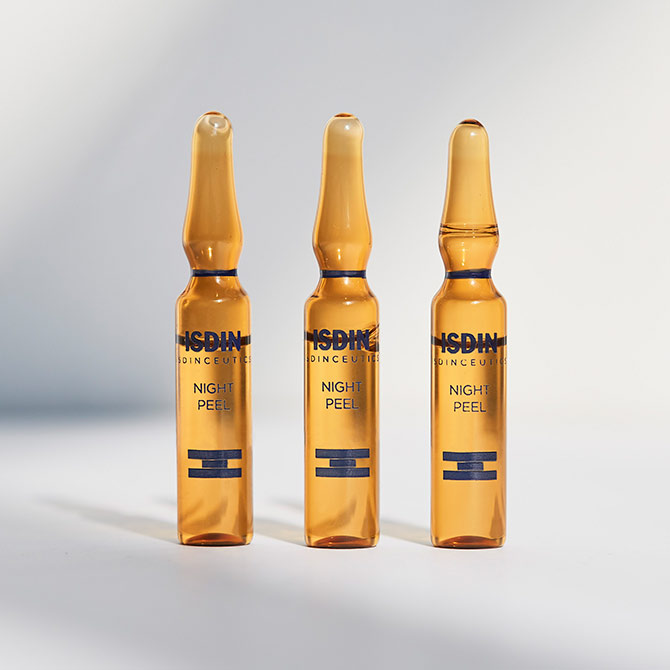 Want to learn more about why we use ampoules at ISDIN? Discover more about our range and the history of ISDINCEUTICS ampoules here.
Sources and references:
https://www.aocd.org/page/Hyperpigmentation
https://stanfordhealthcare.org/medical-conditions/skin-hair-and-nails/skin-texture.html
Behind the blog:
Article written and reviewed by: