Reading:
4
minutes

When thinking of yoga, it's likely that most of us already associate the 5000-year old practice with mental and physical health benefits. It's probable that you've attended a yoga class at some point, and may have left the session feeling more relaxed, flexible, and maybe even more…spiritual? It's widely understood that yoga is good for you, but many of us just don't know what the real benefits are, and why practicing yoga regularly can positively impact our health. 
If you're new to yoga, the practice can sometimes feel intimidating – but benefits can be felt from the very first class, so there's no reason not to begin! Let's take a look at 5 health benefits of yoga, based on science, which will only expand and improve along your yoga practice journey. 
1. Yoga reduces stress
While a form of exercise, yoga is just as relaxing as curling up in front of the TV or lying back in a bubble bath. Yoga is comparable to more 'traditional' relaxation methods, and one study showed that just one 1-hour session of yoga over a 10-week period significantly improved stress, anxiety, and quality of life, when compared to traditional relaxation methods. All this from just an hour a week!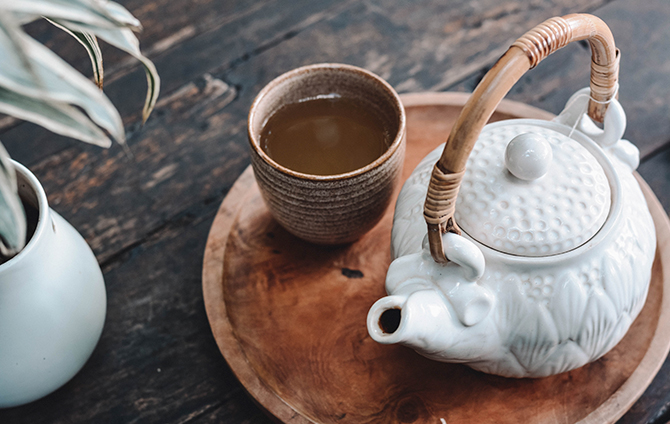 A further study showed that yoga practice decreases the amount of cortisol (the stress hormone) in the body.  Over time, higher levels of cortisol can significantly impact sleep quality, negatively affect your mood, and may even contribute to weight gain and skin problems. Keeping stress levels in check is important, and yoga is just one of the ways you can help effectively manage stress and your body's cortisol levels. 
2. Yoga could help improve sleep quality
Regularly practicing yoga can help you sleep for longer, feel more well-rested, and help you to fall asleep faster. Studies have also shown that yoga can help boost production of melatonin in the body. You might have heard of using melatonin as a supplement, to help regulate the sleep/wake cycle, or even using a melatonin serum in your skincare routine, where it acts to help stimulate the skin's natural defenses against external damage. 
Melatonin is produced naturally by the body, and it helps to control your sleep cycle. Simply put, it tells your body when it's time to head to bed. Higher levels can help you to fall asleep, but as you get older, your body begins to produce less and less of the hormone – so if you're the type that finds bedtime a struggle, try a yoga session instead of reaching for the sleep tablets. A nighttime yoga session is the ideal way to help you relax and wind down before bed.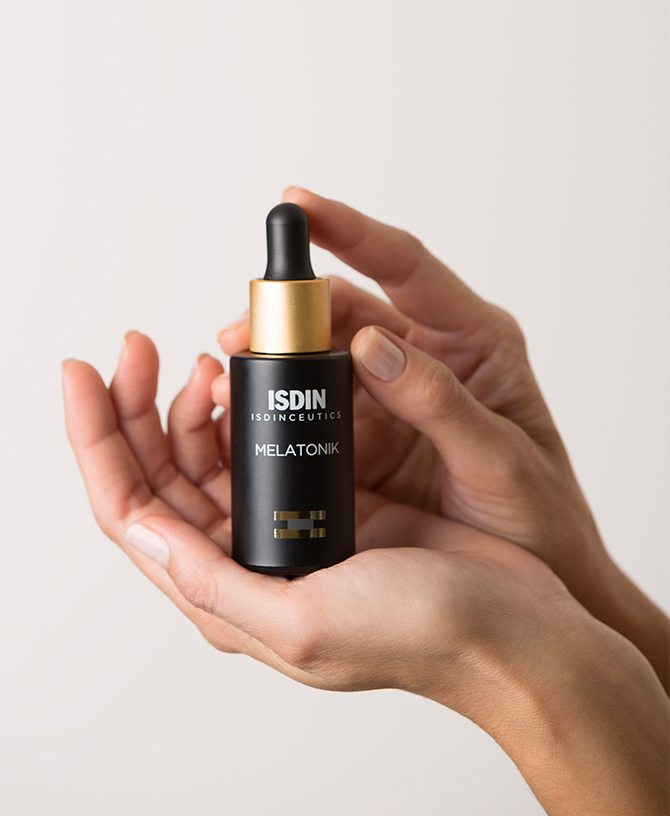 3. Regular practice boosts flexibility
While many forms of yoga are not vigorous enough to count towards your daily recommended moderate exercise, they will help contribute to building strength and flexibility. Yoga is an activity enjoyed by people of all ages, and it's never too late to start to loosen up those muscles and improve your flexibility and balance! 
In addition, yoga may help reduce specific types of chronic pain and improve physical function in those with conditions such as osteoarthritis. However, it's important to let your yoga instructor know about any conditions you might have, as there may be certain movements you are unable to perform or which could make you feel uncomfortable. While more research is needed on the topic of yoga and chronic pain, it could help you experience some relief with the right guidance.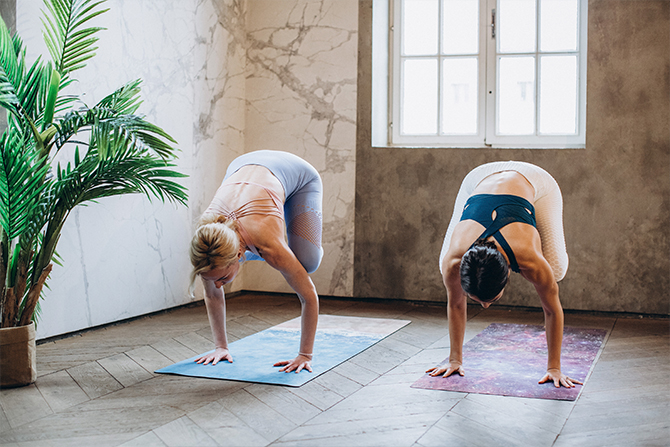 4. Your heart health could be improved
There's evidence to suggest that yoga could positively impact your heart health. One study of over 40s who practiced yoga for over 5 years indicated that participants had lower blood pressure and a lower pulse rate compared to those who didn't practice yoga. 
One of the major contributing factors towards heart disease is stress – and as we've already shown, yoga is a great activity to include in your weekly routine as a stress management technique. The task of keeping your heart healthy is more than just rolling out the yoga mat – you need to consider your diet, stress levels, and exercise levels too – but it is certainly a start!
5. Yoga can help improve your breathing
It might seem obvious, given that breathing exercises are a large part of yoga practice, but regularly attending yoga classes may help improve your breathing overall…not just during the time you spend on the mat. 
Yoga may help significantly increase your vital capacity, which in layperson's terms refers to the maximum amount of air that you can expel from your lungs. Vital capacity is an important part of good health, particularly in those with asthma, lung problems, and even heart conditions.
Even if you don't have a lung condition or a breathing problem, improving your vital capacity or simply wising up on breathing techniques can help optimize breathing performance, and build endurance – especially useful if you take part in other forms of exercise. And even if other forms of exercise aren't for you, keeping your lungs healthier for longer is never a bad thing!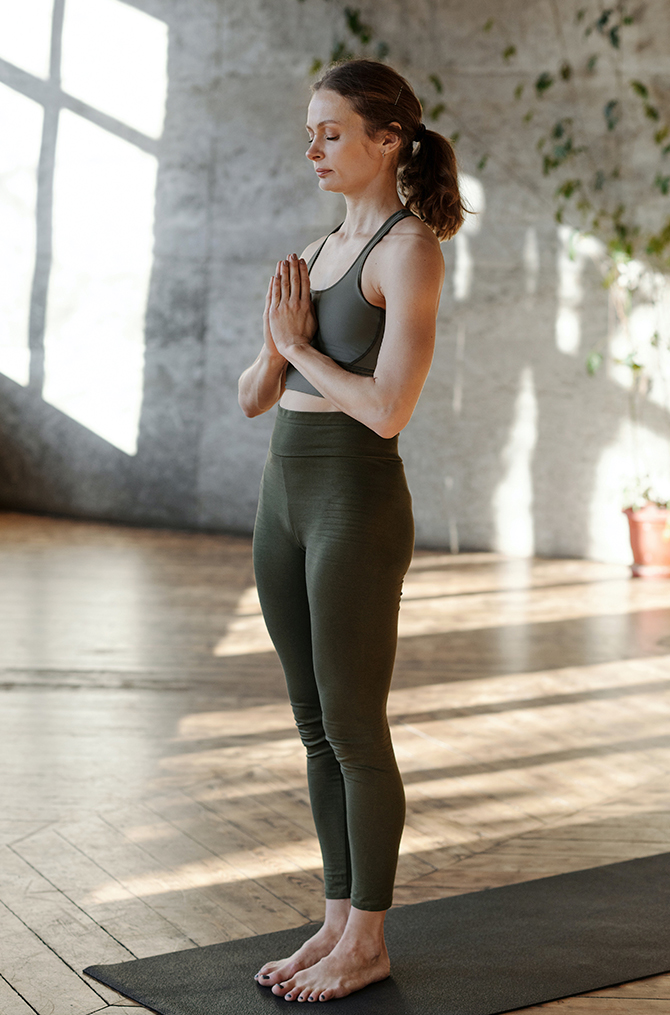 Many of the short-term benefits of yoga can be felt after attending classes or practicing at home for just a few weeks, but if it's those heart-healthy, lung-boosting and stress-relieving long-term health benefits you're after, stick with it! Along with the multiple health benefits, imagine the sense of accomplishment you'll feel when finally able to pull off the more advanced moves. Roll out the mat and get ready for all the benefits yoga can bring!
Sources and references
Smith C, Hancock H, Blake-Mortimer J, Eckert K. A randomised comparative trial of yoga and relaxation to reduce stress and anxiety. Complement Ther Med. 2007;15(2):77-83.
Katuri KK, Dasari AB, Kurapati S, Vinnakota NR, Bollepalli AC, Dhulipalla R. Association of yoga practice and serum cortisol levels in chronic periodontitis patients with stress-related anxiety and depression. J Int Soc Prev Community Dent. 2016;6(1):7-14
Manjunath NK, Telles S. Influence of Yoga and Ayurveda on self-rated sleep in a geriatric population. Indian J Med Res.
Harinath K, Malhotra AS, Pal K, et al. Effects of Hatha yoga and Omkar meditation on cardiorespiratory performance, psychologic profile, and melatonin secretion. J Altern Complement Med. 2004;10(2):261-268.
Kolasinski SL, Garfinkel M, Tsai AG, Matz W, Van Dyke A, Schumacher HR. Iyengar yoga for treating symptoms of osteoarthritis of the knees: a pilot study. J Altern Complement Med. 2005;11(4):689-693.
Bharshankar JR, Bharshankar RN, Deshpande VN, Kaore SB, Gosavi GB. Effect of yoga on cardiovascular system in subjects above 40 years. Indian J Physiol Pharmacol.
Birkel DA, Edgren L. Hatha yoga: improved vital capacity of college students. Altern Ther Health Med.
Behind the blog:
Article written and reviewed by: