Reading:
5
minutes
We all know that silky and smooth hair is usually a reliable indicator that our hair is healthy and in great shape. If you feel that it's lost its shine, you might be wondering how to make your hair healthy again.
After all, if you've ended up here, it's probably after searching the web for healthy hair tips to regain, or maintain, that vitality in your hair, Good news – you've landed on the right post. We'll help you detect unhealthy hair, provide tips on how to maintain healthy hair, and share a healthy hair routine that is easy to maintain in the long run.
Ready? Let's go for it.
What are the signs of healthy hair?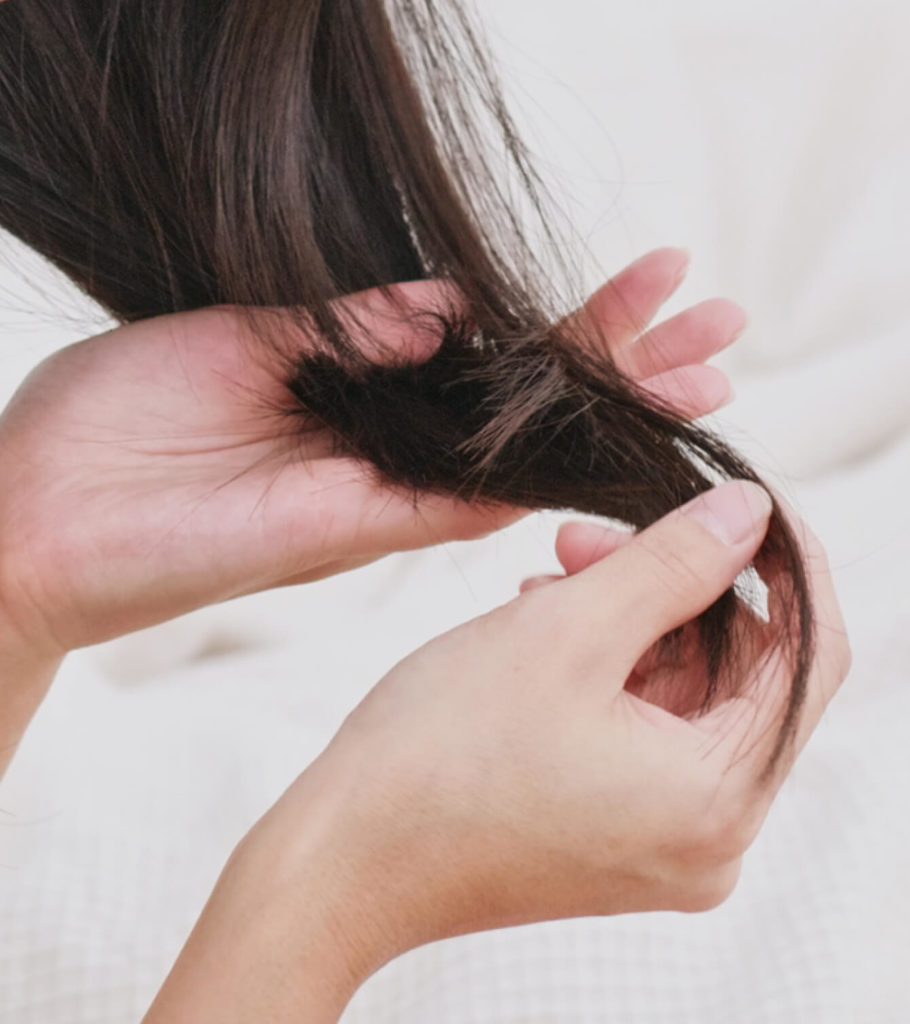 Having hair that is flexible, that doesn't easily break, or that can hold any type of hairstyle, is not just about aesthetics. Having healthy hair is an indicator of your overall health, so here are the key signs that will let you know whether your hair is healthy:
Your hair is shiny and silky. We describe hair as being shiny or silky when it reflects light. It feels silky as well, because it feels smooth to the touch. The reason here is that the natural oils are evenly distributed throughout your hair, plus it's probably getting the nutrients it needs.
Your hair is flexible/elastic and doesn't break easily. Try pulling on a strand of hair (carefully…). Did it stretch a bit before going back into place? If so, this means that your hair cuticles – the outermost layer of the hair shaft protecting the cortex – are flat and the cortex – the central layer of the hair shaft – is strong. 1 The less moist your hair is, the less flat your cuticle will be, leaving the cortex unprotected and weaker. Similar to your skin, your hair needs moisture so that it can maintain a healthy level of flexibility and avoid breakage.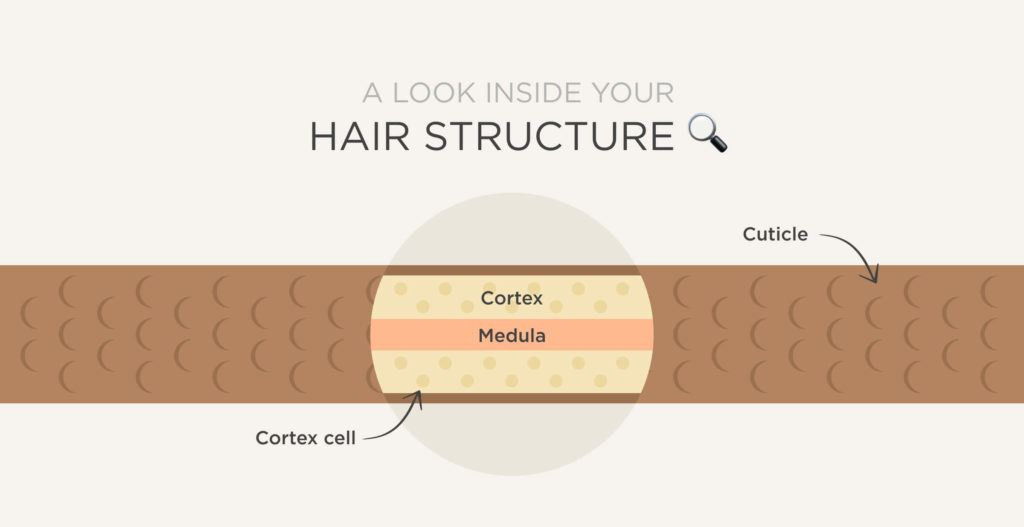 When you brush it, it detangles easily. Think about when you step out of the shower, is brushing your hair a pleasant pastime? Healthy hair doesn't usually put you to the test.
After each haircut or trim, it grows at a normal rate. What does this mean? A normal rate will depend on each person; however, healthy hair approximately grows between 0.2 to 0.7 inches per month. 2
No split ends. This is usually the first thing we check when looking for signs of healthy hair.
But, how do you know if your hair is unhealthy? Well, it's as easy as flipping the previous signs into the negative. Key signs of unhealthy hair include dryness, frizz and flyaways, constant breakage, excessive tangling, and split ends.
How can I make my hair healthy again?
There are many ways to help you get that healthy hair again and stick to a routine that you can maintain in the long run. After all, the aim is to maintain good health, inside and out, right? Let's start with healthy, hair-friendly habits.
What are some good hair habits?
You should always adapt your hair routine to the type of hair you have. However, here are some general good hair habits that will surely apply and be of use to you.
Wash your scalp. Don't forget where it all starts! We tend to wash the whole length of our hair and not concentrate on the scalp enough. If so, it can result in flyaways and duller hair.
Wash oily hair more frequently. If you have oily hair, i.e. your scalp is oily, it's recommended that you wash it every day. 3 If you dye your hair or treat it chemically, it may be dry so you should avoid washing it as frequently. As we age, our scalp produces less oil, so as we grow older we don't have to wash it as often.
Don't forget to apply conditioner on the tips. Whether you use a 2-in-1 or a conditioner separately, it helps keep your hair moist and boost its shine. However, make sure to apply it only on tips of the hair, not the scalp, as it can lead to a limp look, especially in fine and oily hair. 3
Know your hair type so you select the right products. There is a reason why there are so many different types of shampoo and conditioners. For example, if you color your hair, opt for shampoos and conditioners for color-treated hair.
What is a good weekly hair routine?
Sticking to a healthy hair routine requires a certain level of discipline, this is why it shouldn't be too complicated and easy to maintain. More importantly, you'll need to figure out your scalp type and hair texture to opt for the right healthy hair products for you.
For example, if your scalp is extra greasy, you will need to wash every day. If you have curly hair, you can wash it every 2 or 3 days a week. Below, we include key general tips for all hair types:
Give yourself a scalp massage. We often forget that the scalp is the root of healthy hair. Massages help blood circulate and allow nutrients to get to hair follicles faster.4 Scalp massages can be applied to dry hair but it's good to add a nutrient-rich oil to boost the benefits. Note: If you have oily hair, then try to keep oil massage to a minimum; no more than once a week.
Hair trim. Getting regular hair trims will help you get rid of split ends and damaged hair. Although we don't recommend doing this on a weekly basis, it's a good idea to do it every 4-8 weeks.
What should you do to your hair every day?
As we mentioned before, if your hair tends to be greasy, you need to wash it every day to stop excess sebum from blocking your follicles. However, there are other good habits that we can commit to every day to have healthier hair.
Air dry. We know, waiting for your hair to air dry can take a while, especially if you have long hair. But if you can count on that extra beauty time, air drying will avoid any heat damage which can quickly lead to frizzy and dry hair. If you're short on time, speed up the drying process at the end with a hair dryer, but make sure you use cooler settings and that the nozzle is not placed too close to your hair.
Get the vitamins and minerals your hair needs. The right level of iron, zinc, and vitamins are key in growing strong and healthy hair. For this, you might need to rethink your diet or opt for a dietary supplement.
Avoid damaging hairstyles. Imagine constantly pulling on a fine thread…eventually it breaks, right? The same thing happens with your hair strands; if you pull your hair back into a tight ponytail every day, your hair strands will snap and fall off. If they don't break off, you're still damaging hair follicles.
Brush before bedtime. Somewhere between brushing your teeth and plugging your phone in to charge, there's always a free slot for hair brushing to help distribute your scalp's natural oils.
Use the right pillowcase and keep hair loose. There is a reason why "morning hair" is usually associated with "messy hair". To lessen this morning mess, opt for a special pillowcase, i.e. silk. If you're used to tying your hair up, for example in braids, you can do so but make sure it's in loose braids.
So, now you know how to grow healthy hair and maintain it. As you've seen, it's one thing to understand how to repair unhealthy hair and another to learn how to have healthy hair long term. Add these self-care practices into your routine to keep feeling healthy and beautiful — inside and out.
Sources and references:
Yang, F. C., Zhang, Y., & Rheinstädter, M. C. (2014). The structure of people's hair. PeerJ, 2, e619. https://doi.org/10.7717/peerj.619
Bent, Melissa. "Nutrition and hair health." The Trichological Society, https://www.hairscientists.org/hair-and-scalp-conditions/nutrition-and-hair-health. Accessed 24 November 2022.
"Tips for healthy hair." American Academy of Dermatology, https://www.aad.org/public/everyday-care/hair-scalp-care/hair/healthy-hair-tips. Accessed 31 October 2022.
Koyama T, Kobayashi K, Hama T, Murakami K, Ogawa R. Standardized Scalp Massage Results in Increased Hair Thickness by Inducing Stretching Forces to Dermal Papilla Cells in the Subcutaneous Tissue. Eplasty. 2016;16:e8.
Behind the blog:
Article written and reviewed by: