Reading:
5
minutes
The colder months mark the season of warm sweaters, cozy meals, and catching up with loved ones by the fireside. But amidst the falling temps, itchy, uncomfortable skin might also show up to the festivities — uninvited.
These sudden changes in indoor and outdoor climates make our skin more vulnerable. Fortunately, we can proactively protect our skin by updating our winter skincare routine.
Let's get started — 'cause baby it's cold outside!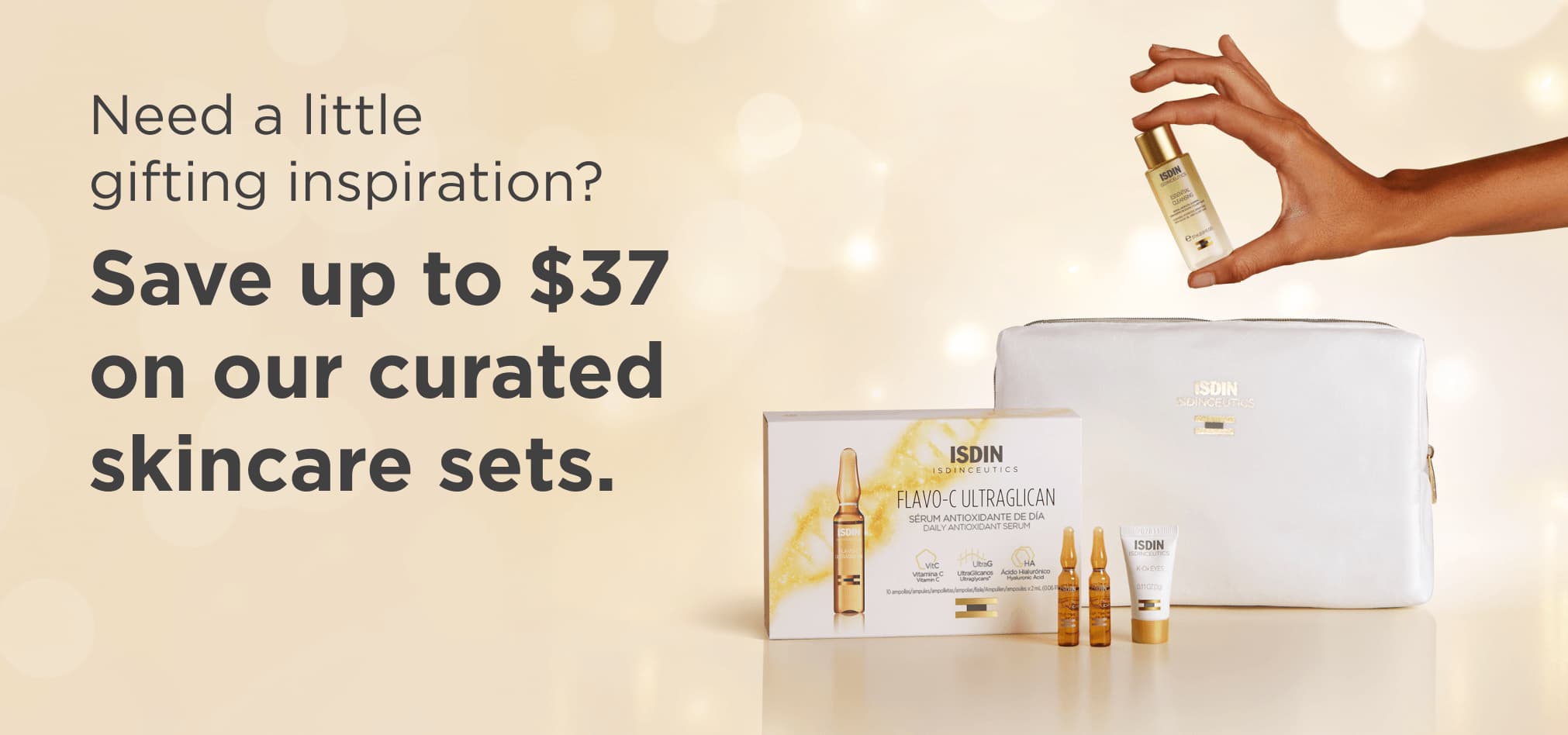 How does winter weather affect my skin?
It's natural to feel the effects of changing seasons on your skin throughout the year. But, winter's chill has a particularly notorious reputation.
That's because dry, cold climates hinder our skin's natural barrier function. With less ability to protect itself, skin cells kick up their production of pro-inflammatory proteins and cortisol. The result: our stressed-out skin might become more reactive towards allergens or irritants. And flare-ups of atopic dermatitis and other skin conditions may follow.
What else happens when your skin's barrier isn't functioning at its best? It can also affect your skin's lipid production: the natural fats that help your skin retain moisture. So, your skin can end up feeling dry and tight.
Fortunately, there are a few ways we can fight back.
Winter skincare tips for serene skin
1. Prioritize hydration
Tight, dry skin is the opposite of cozy. The chilly months signal the time to switch out lighter moisturizers for heavy-hitting hydration.
Prioritize products that help replenish lost moisture in the skin and help keep your skin hydrated throughout the day. Our favorite hydration hero? Hyaluronic acid.
This molecule naturally found in our joints, connective tissue, and skin binds to and retains moisture. Aside from acting as a natural moisturizer, hyaluronic acid also plays a role in skin repair and helps combat the visible signs of aging such as fine lines and loss of elasticity.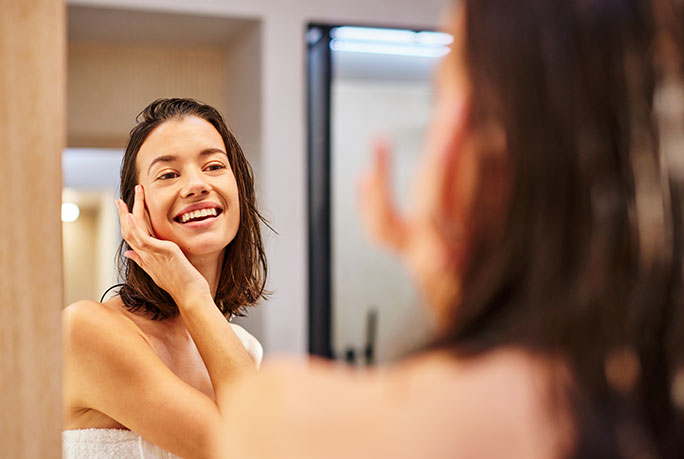 2. Add-in exfoliation
Ideally, at-home exfoliation should be a regular fixture in your routine all year long, even for dry skin. Exfoliation helps get rid of dead skin cells and encourages healthy turnover — meaning it can also help smooth out your skin texture to get rid of dry, flaky skin.
But there are some special considerations when it comes to winter skincare. Make sure to avoid manual exfoliants AKA grainy exfoliating scrubs. These can irritate the skin further and lead to more dryness. For dry skin, chemical exfoliants like AHAs (alpha-hydroxy acids) are the ideal choice.
Glycolic acid is a popular AHA with water-attracting properties — meaning it's still effective while being kind to skin with the winter blues. Glycolic acid can be used regularly with dry skin in gentle formulas with low concentrations. Just make sure not to skip the sunscreen, as exfoliation can make the skin more sun-sensitive.
3. Switch to gentler skin-renewing ingredients
Your skin's got enough going on with freezing temps and Sahara-dry indoor settings. Now's not the time to keep harsher ingredients in the mix.
Still, you can combat the visible signs of aging with more winter-friendly ingredients. Take bakuchiol, for example, the retinol-like plant extract with a gentle profile. In a study on sensitive skin types, bakuchiol was proven both tolerable and effective in promoting a healthier appearance of photodamaged skin.2 Effective with fewer undesirable effects, it's the ideal addition to your winter skincare routine.
Another winter wonder is the indirect antioxidant melatonin. It works to repair oxidative damage to the skin. This means melatonin plays a major role in protecting the skin, including free radical scavenging. And when our skin's natural defenses are down, it might be just what we need.
4. Sunscreen is still a non-negotiable
Even as the days shorten and the nights get longer, you still need to protect your skin from UV radiation.
Sunburn-causing UVB rays are the strongest in the summertime. But, they can still take a toll on your skin year-round, especially when enjoying winter sports. The Skin Cancer Foundation advises, "Snow reflects up to 80 percent of the sun's UV light, so the rays hit you twice, further increasing your risk of skin cancer and premature aging."
Meanwhile, unlike UVB rays, UVA radiation is constant all day, year round. And it reaches your skin even on cloudy days and inside your car, office, or house. Opt for a sunscreen labeled as broad spectrum — meaning it meets FDA standards for UVA protection. And the higher the SPF, the higher the UVA protection will be too.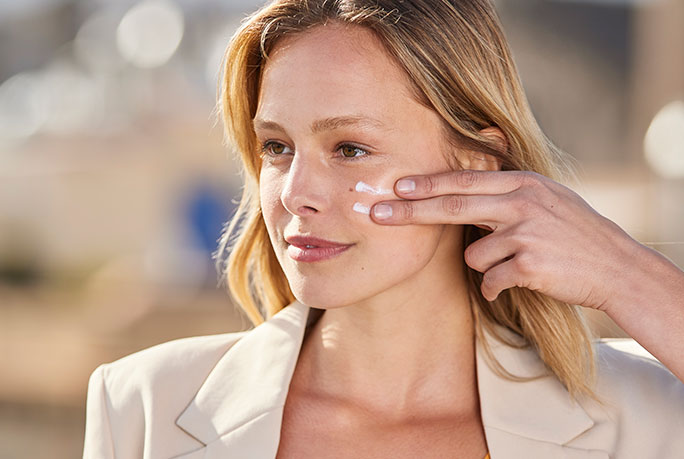 Our recommended winter skincare routine
Step 1: Gentle micellar cleanser
Harsh gel cleansers can strip the skin of its natural oils. So make sure to choose a gentle cleanser that's suitable for daily use on all skin types, even sensitive. Our micellar cleansing water gently cleanses and lifts away makeup without disrupting your skin's natural barrier.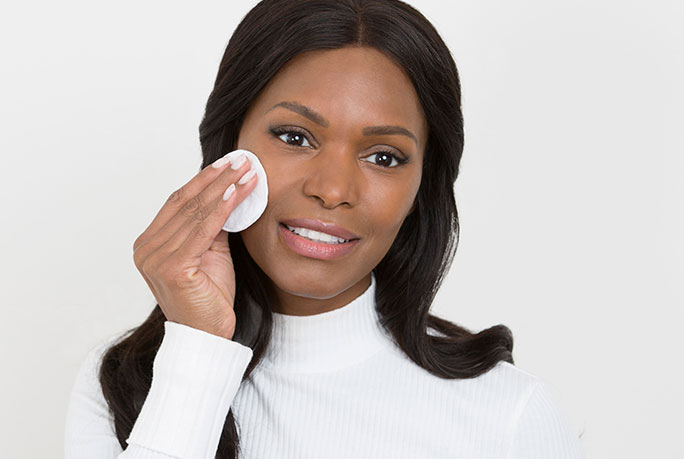 Step 2: Revitalizing eye cream
After cleansing, reach for eye contour cream. Applying before your serum helps the ingredients penetrate and protect the delicate skin.
Remember melatonin, that winter essential we mentioned? Try a melatonin eye cream, like Vital Eyes. It helps protect the delicate under-eye area from the effects of harsh environments. Bonus: its revitalizing effects help diminish the appearance of crow's feet and fine lines around the eyes.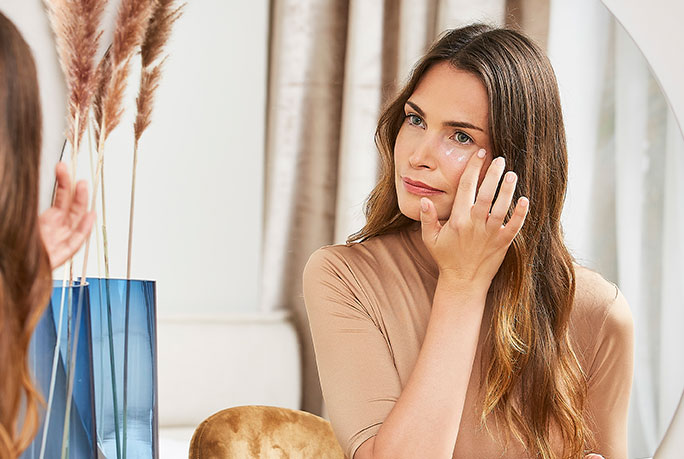 Step 3: Hydrating serum
It's time to double or even triple up on moisturizing serums. Try applying a hyaluronic acid serum after eye cream, both morning and evening. Enjoy the satin texture of our water-gel serum Hyaluronic Concentrate, or the 72-hour moisture of Hyaluronic Booster, to add volume to the skin and diminish the look of fine lines.
Or opt for a 3-in-1 overnight recovery serum with melatonin. Melatonik provides overnight hydration and reinforces the skin's moisture barrier for up to 8 hours after application¹, giving skin a healthy glow.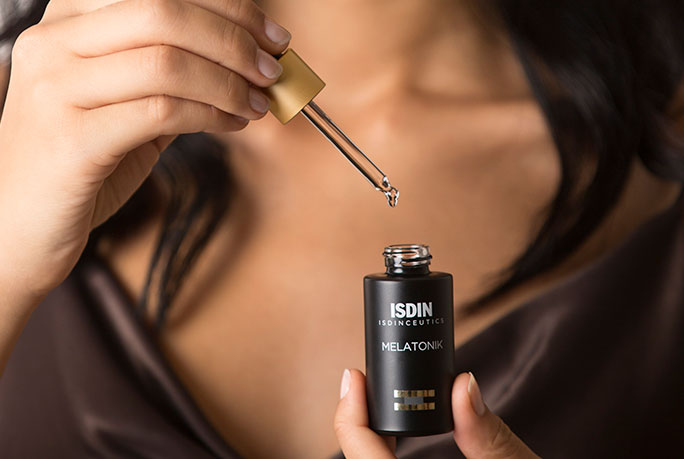 Step 4: Nurturing moisturizer
Now it's time to seal in the moisture with a comforting, rejuvenating moisturizer.
Use Age Contour in the morning to redefine winter skin with a smoother, firmer, more hydrated complexion. Before bed, revel in our restorative formula Age Contour Night. On top of hydrating and calming the skin, it also boasts melatonin to help stimulate natural antioxidant defenses and reduce visible signs of aging.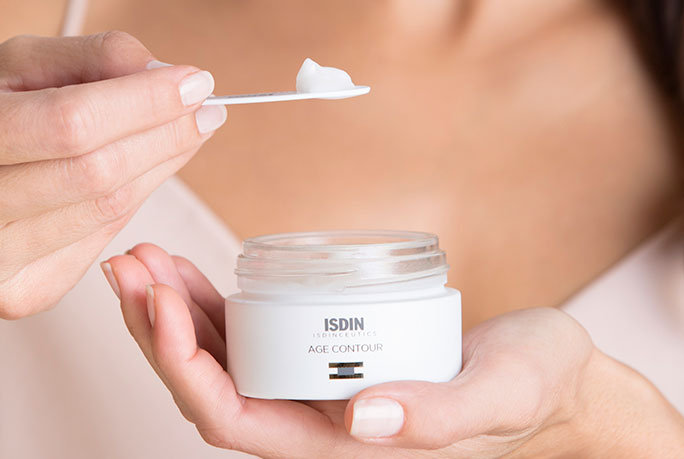 Step 5: Broad spectrum sunscreen
Top off a winter-approved skincare routine with a lightweight sunscreen for all-day, everyday use. Eryfotona Actinica is a fast-absorbing, ultralight emulsion providing all-mineral broad spectrum sun protection. It also sports vitamin E: an antioxidant that helps to boost the skin's natural defenses and protect against environmental damage.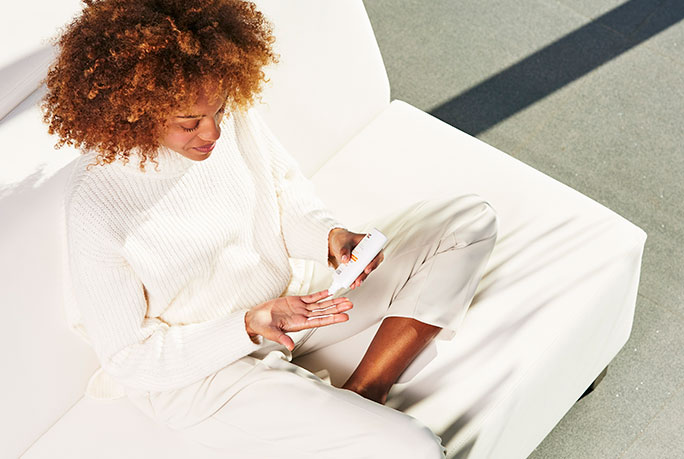 Extra nighttime step: Gentle exfoliant
At night, add in a gentle exfoliating product to illuminate your skin. Glicoisdin is our new glycolic acid range, designed to meet the needs of every skin type. Choose a low concentration formula to start out with, before graduating to stronger concentrations. 
During the first week of use, apply a small amount of product on alternate days, and continuously during the following weeks. The exfoliating action of glycolic acid helps to soften the skin's texture and promote the skin-renewing process.
Take that winter skin!
---
References: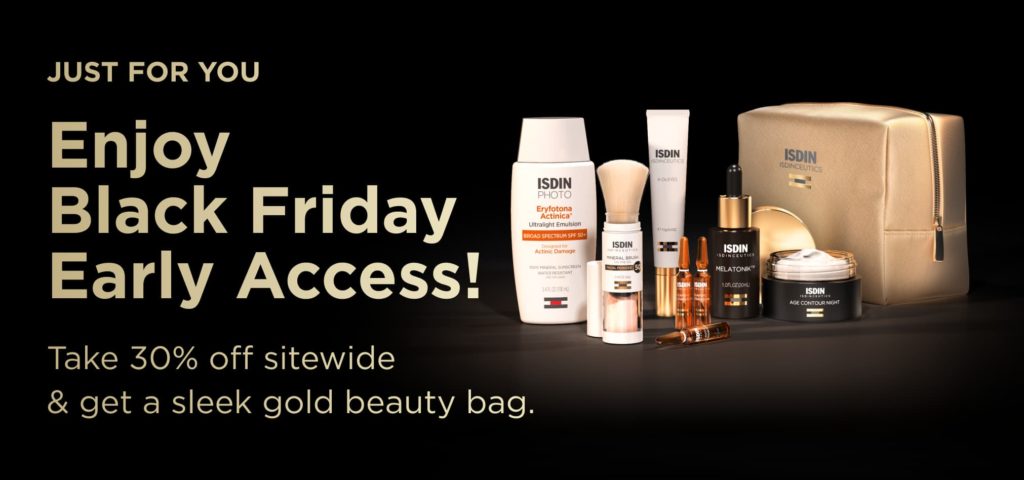 ¹Data on file. ISDIN Corp. 2022. Morristown, NJ

2Draelos ZD, Gunt H, Zeichner J, Levy S. Clinical Evaluation of a Nature-Based Bakuchiol Anti-Aging Moisturizer for Sensitive Skin. J Drugs Dermatol. 2020 Dec 1;19(12):1181-1183. doi: 10.36849/JDD.2020.5522. PMID: 33346506.

Engebretsen, K., Johansen, J., Kezic, S., Linneberg, A. and Thyssen, J. (2016), The effect of environmental humidity and temperature on skin barrier function and dermatitis. J Eur Acad Dermatol Venereol, 30: 223-249. https://doi.org/10.1111/jdv.13301

Meyer K, Pappas A, Dunn K, et al. Evaluation of Seasonal Changes in Facial Skin With and Without Acne. Journal of Drugs in Dermatology: JDD. 2015 Jun;14(6):593-601. PMID: 26091385.