Reading:
4
minutes

How many times have you read that the factor that most influences skin aging is solar radiation? Or that sun cream stops you getting a tan? There's now so much information out there that it's difficult to tell what's true or simply a skin care myth these days!

We spoke to Gema Herrerías, pharmaceutical expert in dermopharmacy, about these and other common skin care beliefs in a live video on Instagram, organised by ISDIN, with the participation of Martina Klein and María Gomez.
If you missed out on the live stream, don't worry! We'll be passing on what we learned in this post. Carry on reading to discover if these skin care myths are true or false!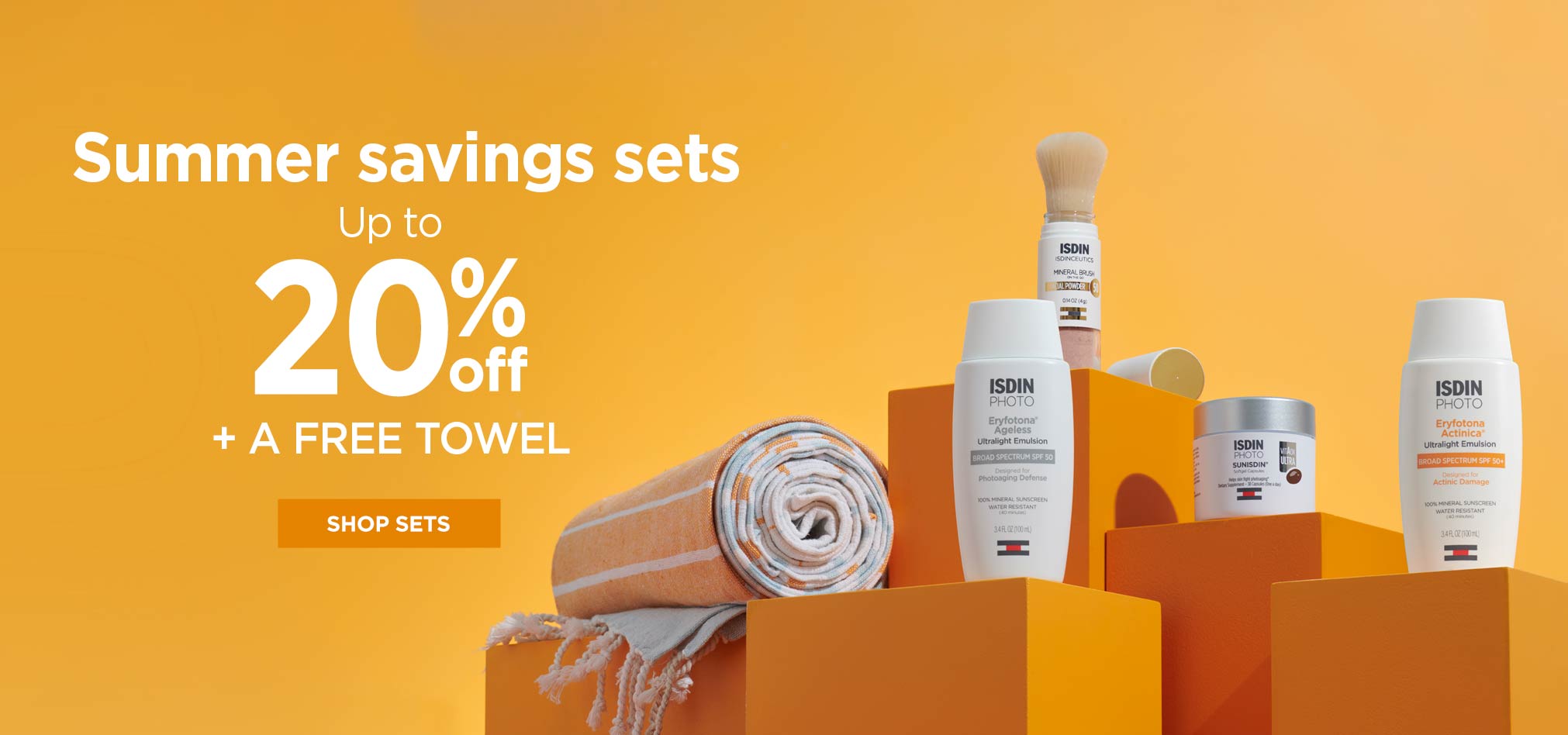 1. 80% percent of skin aging is caused by solar radiation.
True. Solar radiation is the factor that most accelerates the skin aging processes. There are also five other factors that contribute to skin aging:
environmental contamination
tobacco
high temperatures
bad diet
lack of sleep and stress
Together, these six factors that affect our skin are referred to as: the exposome.
"Solar radiation is the prime factor in making us age. It is also surrounded by what is referred to as the exposome, a group of factors that contribute to our aging".

GEMA HERRERÍAS
2. The best product to slow down skin aging is a good sunscreen.
True. The use of a sunscreen every day helps to slow down and prevent the appearance of the signs of aging. And it's not just a matter of preventing skin aging – using sunscreen daily helps to minimize the risk of developing skin cancer.
"If I were to give just one piece of advice on how to age better, it would be to protect ourselves from the sun".

GEMA HERRERÍAS
Gema adds that it is important to eat well, do exercise, avoid stress and get enough sleep when building an anti-aging routine. You should also complement the sun protection you use with a skin care routine appropriate for your skin type and needs, including antioxidant ingredients like vitamin C, found in the vitamin C ampoules ISDINCEUTICS Flavo-C Ultraglican, an antioxidant day serum that helps to combat oxidative stress in skin.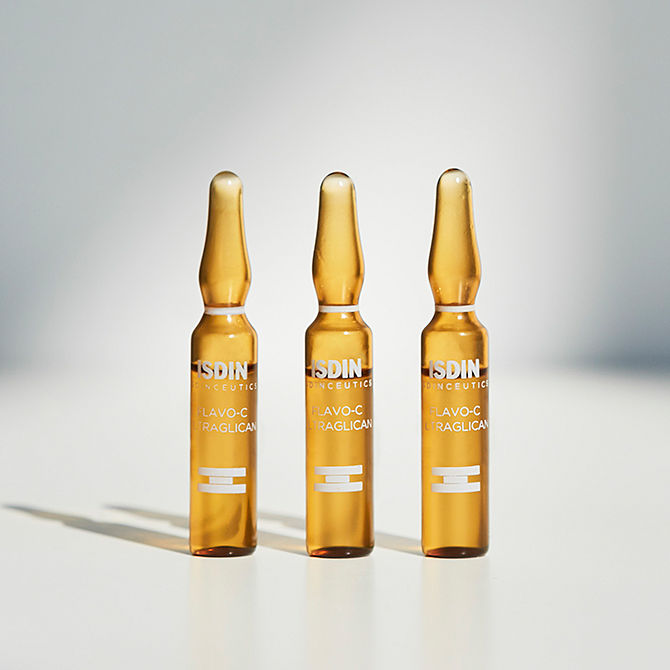 3. Using sun protection will stop you getting a tan.
False. Sun protection helps to prevent the appearance of skin cancer. When we apply sunscreen, this does not stop us getting a tan, it stops us getting sunburn. Total protection, e.g "total sunblock", does not exist: this would mean 100% photo-protection from solar radiation, and even if your sunscreen has a very high SPF, some solar radiation will still reach your skin. You should also bear in mind the amount of sun protection you apply, as if you don't stick to the recommended amounts, you'll be less well-protected. If you don't reapply sunscreen during the day, the SPF protection your sunscreen initially offered will get lower and lower.

"Full protection against the sun does not exist. Applying sunscreen helps prevent against sunburn and skin cancer, it does not stop us getting a tan."

GEMA HERRERÍAS
It is important for us to protect our skin from the sun every day. This way, we can help avoid sunburn, reducing the likelihood of the appearance of skin cancer while achieving a more gradual tan.
4. Your skin type remains the same throughout your life.
True. Our skin type stays with us throughout our life. However, the condition our skin is in changes over time and we have to care for it appropriately as it goes through different phases.
Understanding your skin type is very useful when it comes to choosing cosmetics: if your skin is oily you can use lighter textured products. On the other hand, if you have dry skin, you can use products with a richer texture.
When you have established what your skin type is, you can then start to look after it appropriately.
During our streaming session, Martina Klein told us that she had noticed that her skin was dehydrated after going on a long-haul flight from Australia. In cases like this, the texture and benefits of a night time serum like Isdinceutics Melatonik™ are a great help in allowing skin to recover.
"To return your skin to its normal condition after a long flight, repairing ampoules, a highly moisturizing cream … are our saviors".

GEMA HERRERÍAS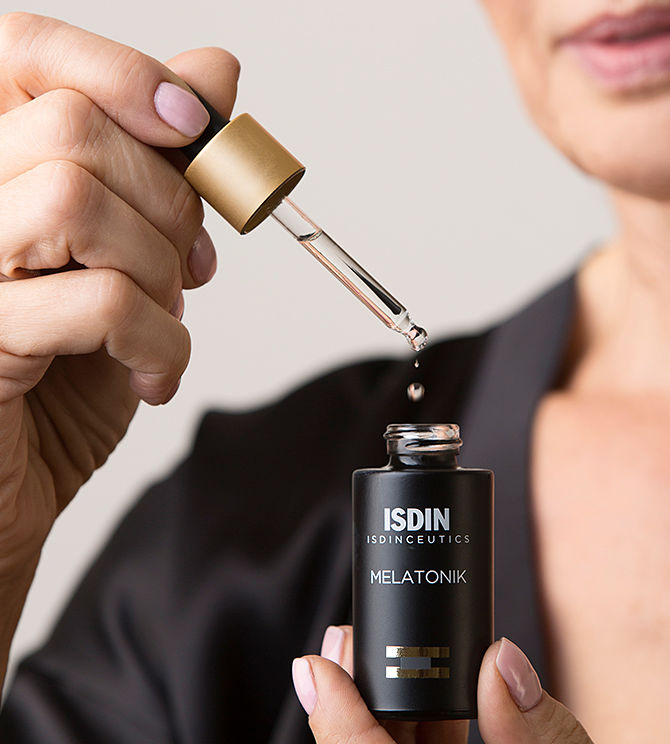 5. Using make-up on top of sunscreen prevents the sunscreen from working.
False. You can absolutely apply your regular makeup on top of sunscreen! The correct way round is to apply a facial sun cream, like our mineral based sunscreen ISDIN Eryfotona Actinica, or our tinted mineral sunscreen, Eryfotona Ageless, and then go ahead with your normal makeup routine.

Don't forget to re-apply your sun protection throughout the day, and if you're worried about spoiling your makeup, there are now practical products available that you can apply on top of it, such as the ISDINCEUTICS Mineral Brush. This handy brush comes in an easy-to-use format which lets you apply mineral protection on top of your makeup without spoiling it. Gema told us that she always carries Mineral Brush in her bag.

"The ISDIN brush is really convenient. It allows me to keep my sun protection on all day and helps to mattify my skin".

GEMA HERRERÍAS
6. You don't need to reapply sunscreen in winter.
False. You must re-apply sunscreen at all times of the year, especially if you're one of the lightest skin phototypes. You should also take your daily activities into account, like working outdoors, or playing tennis in the afternoon. As a general rule, in winter applying mid-morning is sufficient enough to carry you through the afternoon, but remember that the re-applying step is an absolute must.
"With the sunscreens available today and their innovative formats and textures, it is impossible for people not to protect themselves.

GEMA HERRERÍAS
Have you come across any of these myths and facts about skincare before? Were you surprised by anything?
Behind the blog:
Article written and reviewed by: