Reading:
6
minutes
While you might be familiar with retinol on your shelves and newsfeeds, retinal with an A is a favorite of skincare professionals and dermatologists. But what makes retinal different from its well-known counterpart, retinol? And is it right for your skin?
We're joined by Ana Fernandez, ISDIN Medical Communication Specialist and resident retinal expert, to unveil the facts behind its skincare benefits. Plus, discover how retinal works to fight against the signs of skin aging (if you're into that kind of thing).
Let's get started.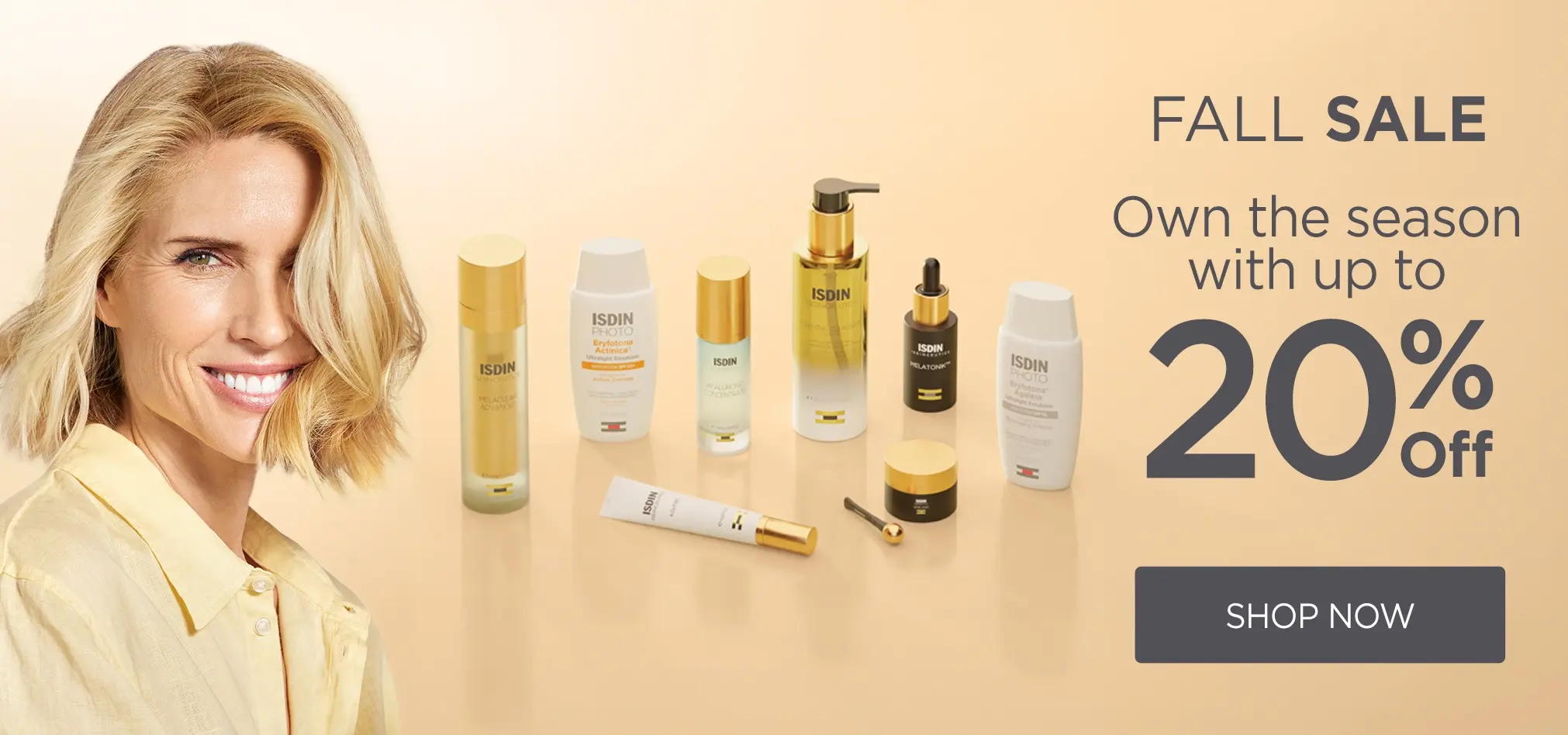 What is retinal?
THE BASICS
RETINALDEHYDE

WHAT IT IS: Retinoid (vitamin A derivative)

WHAT IT DOES: This age-defying agent boosts skin turnover to help blur fine lines and redefine your skin's texture. 

WHO IT'S FOR: Depending on the formula, retinal can be gentle enough for all skin types. But it's best to start slow and consult your dermatologist. 

HOW TO USE IT: Topical retinal is ideally used in serums or moisturizers at night on clean, dry skin.

GOES WELL WITH: Hyaluronic acid, niacinamide, bakuchiol

DON'T MIX WITH: Space out your vitamin C and retinal products (stick to C in the morning and retinal at night). When it comes to glycolic acid, consider alternating nights using the skin cycling method. 

TRY IT IN: Retinal Advanced

What are the skincare benefits of retinal?
Retinal is probably most well-known for its wrinkle-fighting capacity. But the ability to speed up the skin's natural renewal process makes this hero ingredient quite the multitasker.
Here's what retinal can help with:
Reducing the appearance of fine lines and wrinkles
Promoting skin tightness and elasticity
Supporting skin's collagen levels for a firmer, plumper look
Unifying skin tone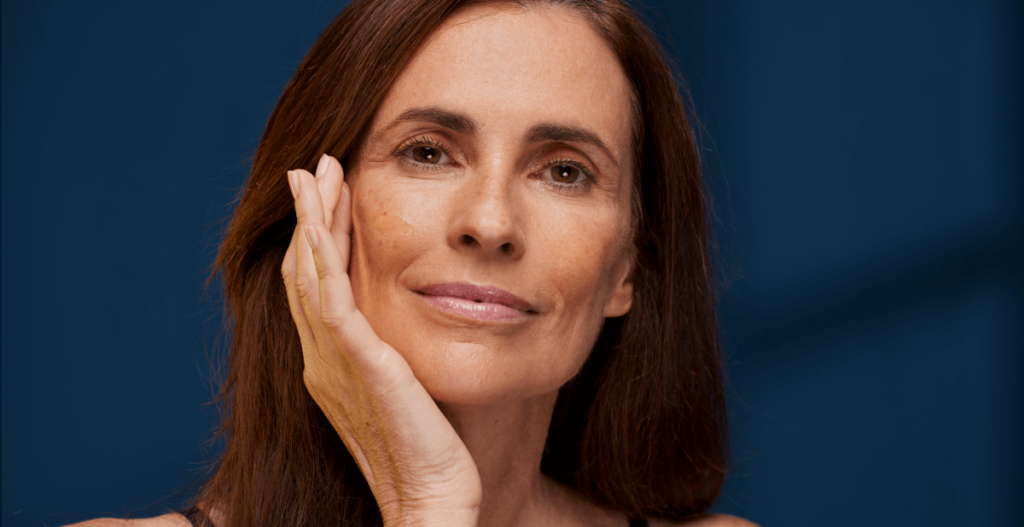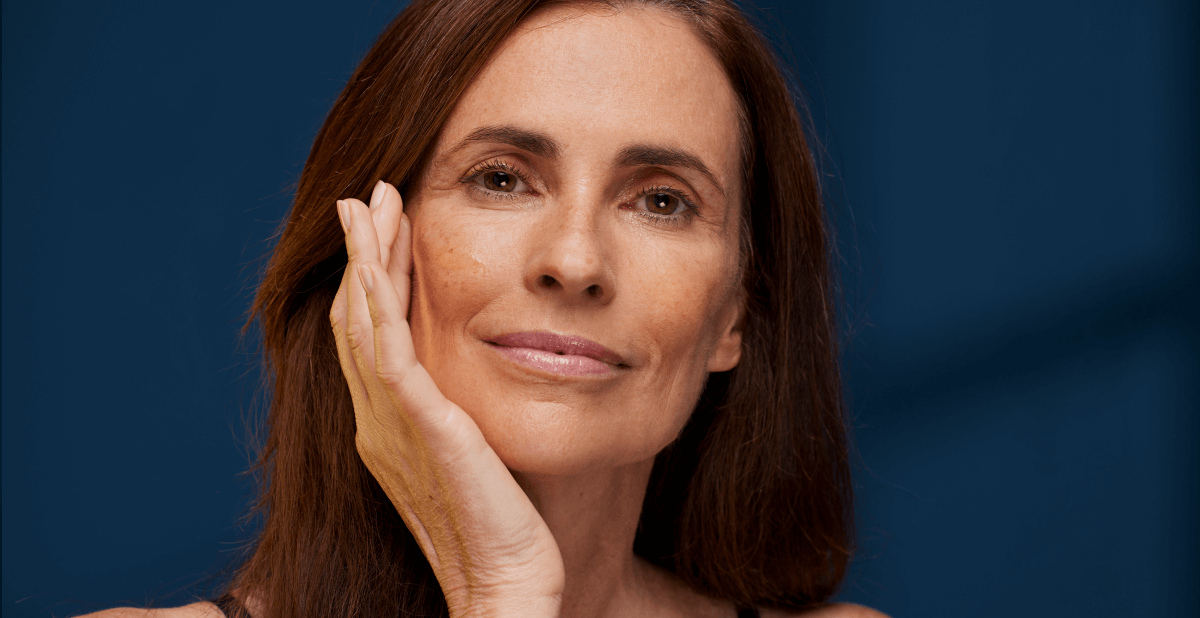 Retinal, retinol, retinoids: what's the difference?
This is where things can get a bit confusing. Not to worry, our expert is here to break it down so you can help make the best decision for your skin.
Retinal vs. retinoids
"Retinoid is the umbrella term for a class of age-defying ingredients derived from vitamin A," shares Ana. And vitamin A is vital to our skin's health. But, it isn't produced by our skin naturally — meaning we can only get it through our diet and skincare.
That's where retinoids come in. They help support the skin's natural collagen for smooth, even, and younger-looking skin. Retinaldehyde, also known as retinal, is a type of retinoid. As are retinol and tretinoin.
Retinal vs. retinol
They're both retinoids. They can both be found on beauty store shelves. And our bodies have to work to convert both into retinoic acid (the active form of vitamin A that gets to work on rejuvenating your skin).
So what's the main difference between retinal and retinol? The time it takes to get things moving.
Here's how retinol converts into retinoic acid: Retinol » Retinal » Retinoic acid
Retinal on the other hand: Retinal » Retinoic acid
Ana confirms, "While retinol takes two steps to convert, retinal only takes one — meaning it converts into active form faster."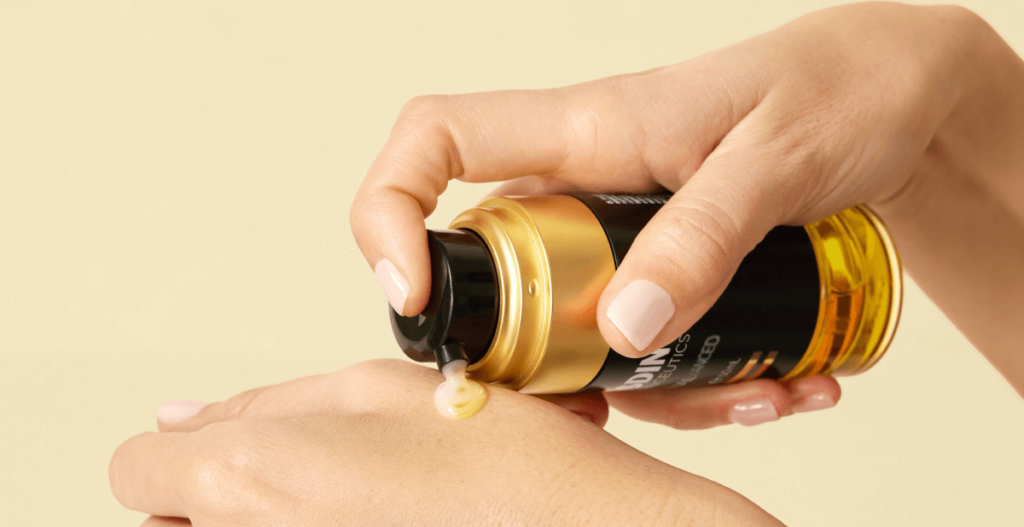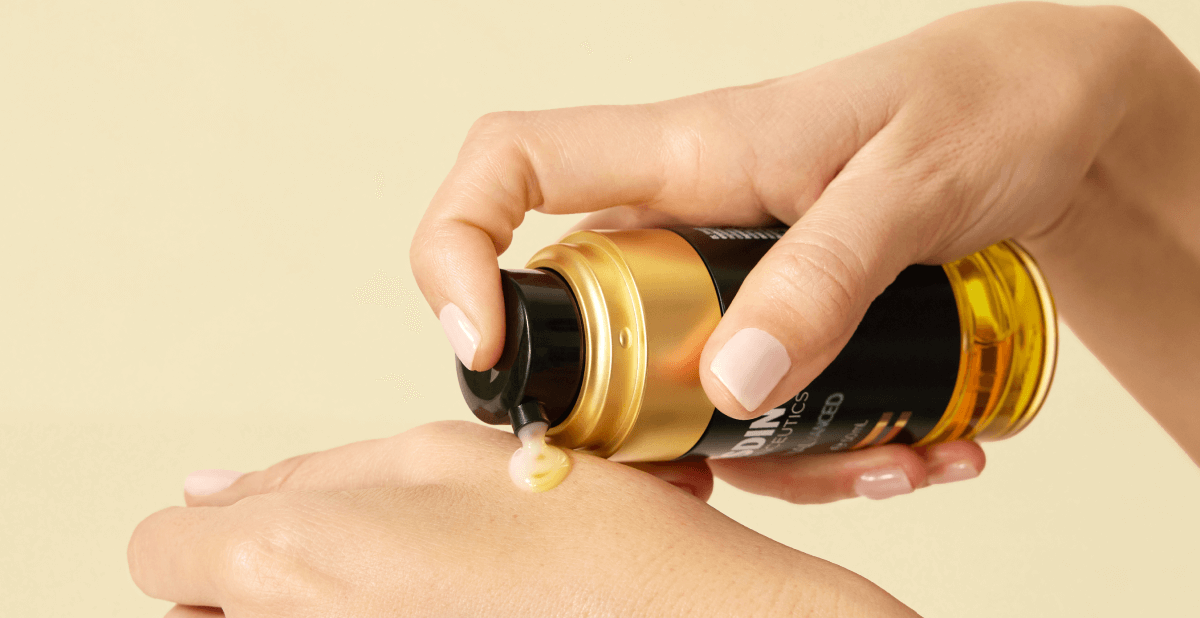 Retinal vs. tretinoin
Remember when we said our skin needs to convert retinol and retinal into retinoic acid? Tretinoin is retinoic acid. So it can be seen as a more potent version of retinal. And it's only available with a prescription.
So which to choose if you're new to retinoids? "Since it's easily accessible and quite effective, retinal may be the more beginner-friendly option while still being results-focused," advises Ana.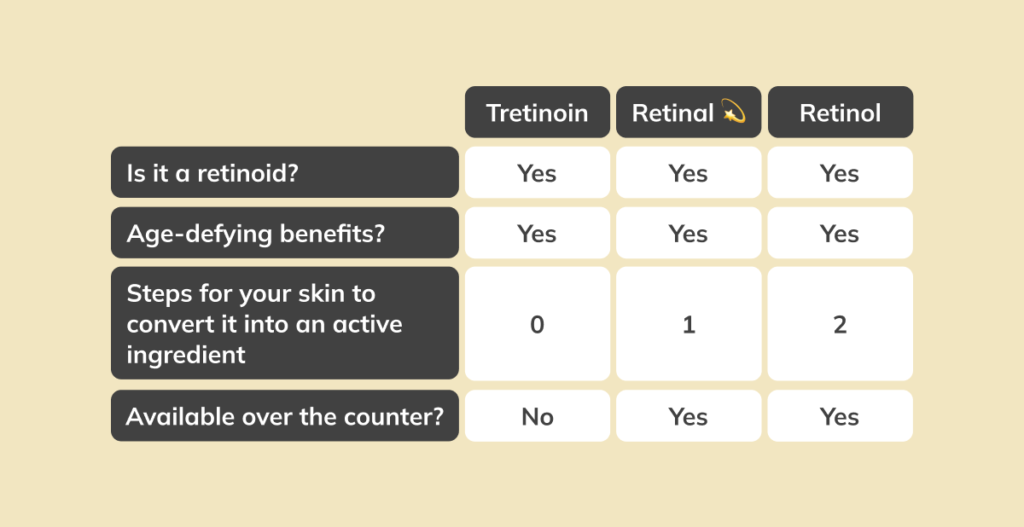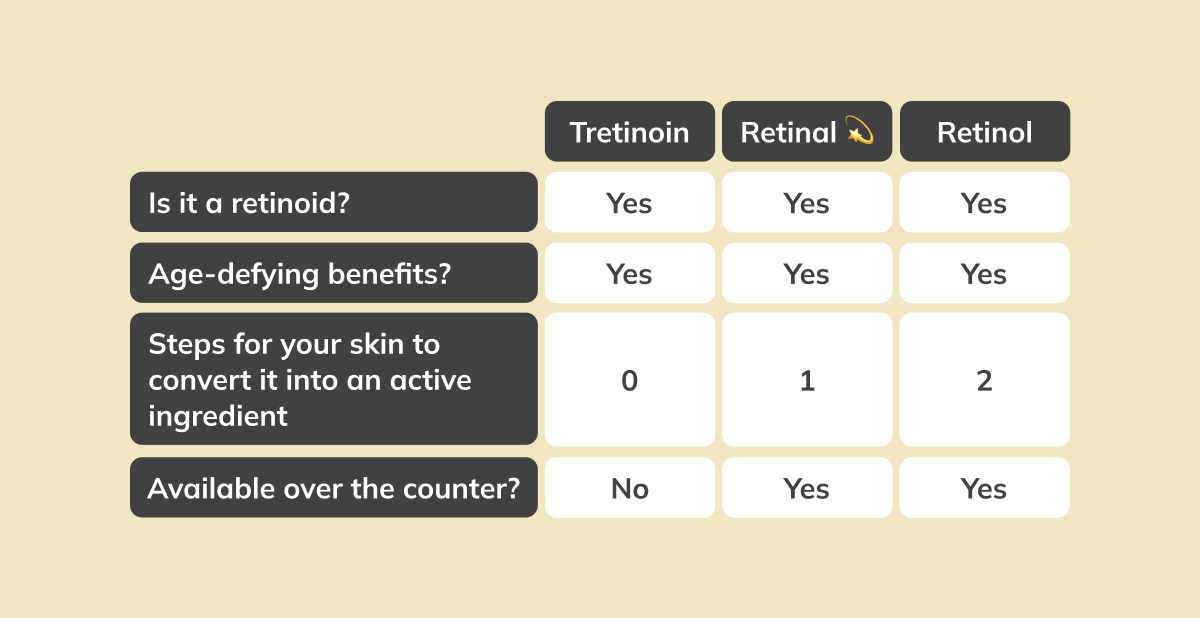 What is retinization?
If it's your first time using a retinoid, your skin may need some time to adjust — AKA the retinization period. Retinal puts your skin's turnover into overdrive. And since your skin is working so quickly to regenerate itself, you might see more texture come up to the surface at first. Sometimes this period is called purging (think pimples, flaking, and light peeling).
The good news? These minor inconveniences should be temporary, while results stick around. "Using retinal can be a process. But the end goal is smooth, youthful-looking skin. Keep at it and you're likely to start seeing visible results in just a few weeks," advises Ana.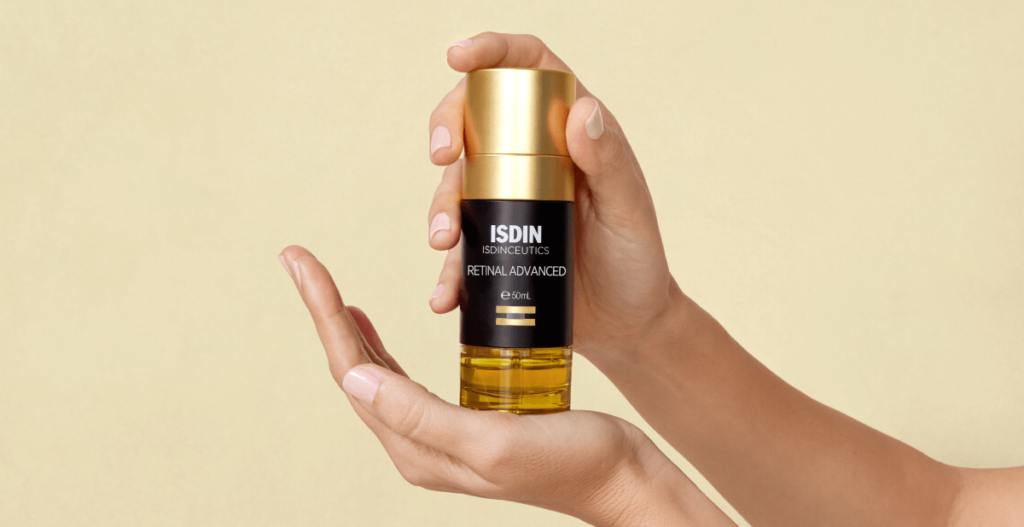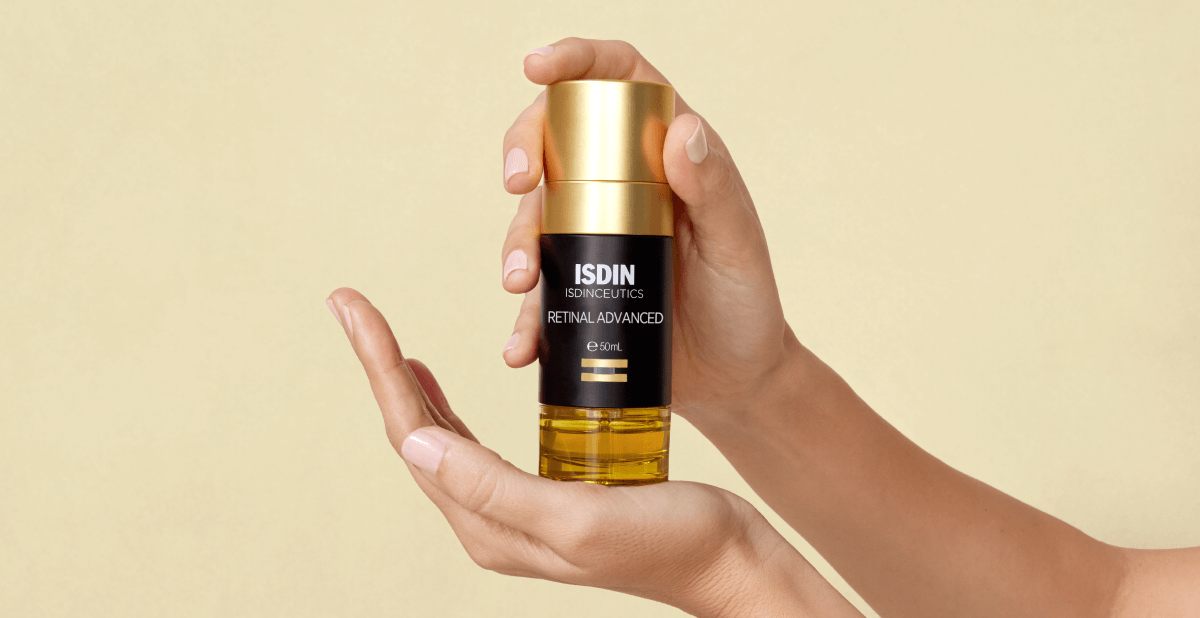 How should I get started with retinal?
Take your time and incorporate retinal little by little. Use your new formula at night, as the third step in your evening skincare routine, after cleansing and applying eye cream.
So, how often can retinal be used? Of course, it's always best to follow the advice of your dermatologist or the application instructions on your skincare product's label. But here's a suggested schedule to help you get started:
Week 1: 2-3 nights
Week 2: 3-4 nights
Week 3: 5-7 nights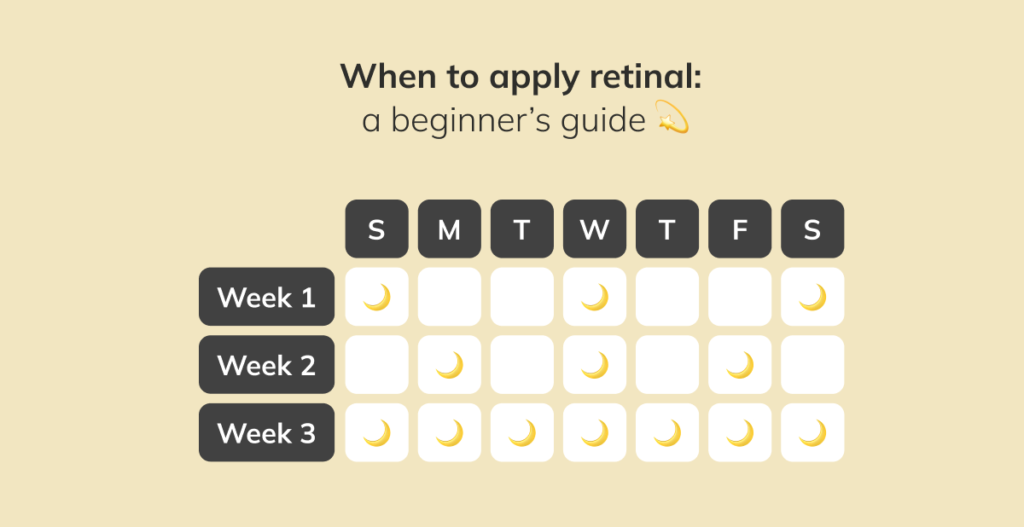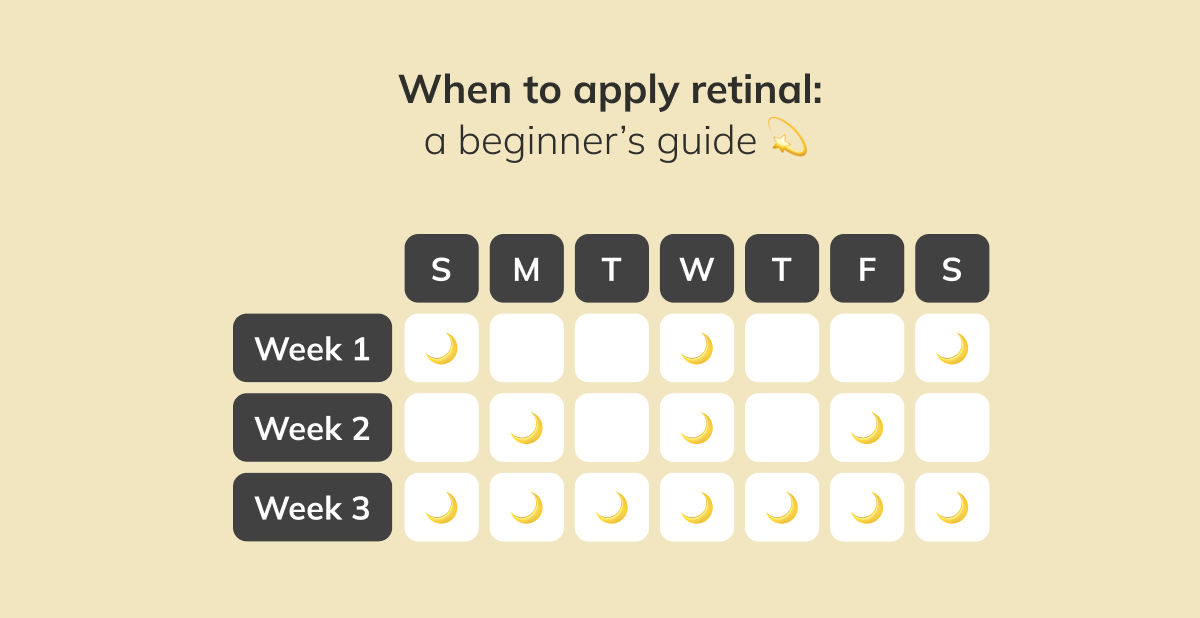 Another word of advice? Listen to your skin. "If you start to feel like it's too much, take a breather," says Ana. "And if you notice any discomfort (your skin shouldn't sting or hurt), pause your regimen and check in with your dermatologist."
Last but not least, always, always wear high SPF, broad spectrum sunscreen. Retinoids can make your skin extra sensitive, especially when getting started.
Your retinal skincare routine, step by step
Step 1: Use a gentle oil cleanser
Reach for an oil formula to help melt away daily skin stressors. Cleansing oil binds to unwanted oils, makeup, and sunscreen to help eliminate them while adding some much-needed hydration and antioxidant support. Plus, a thorough cleanse leaves the skin ready for the rest of your products to get to work.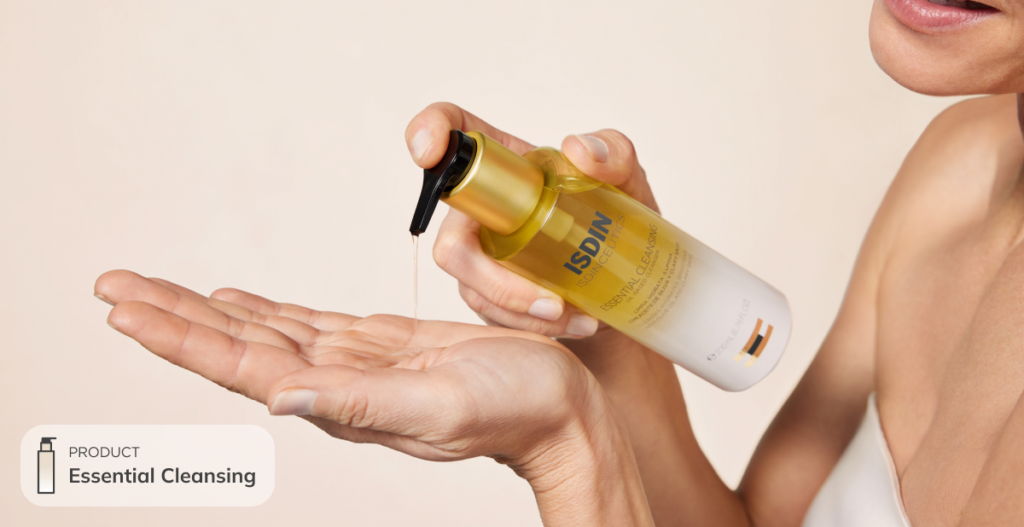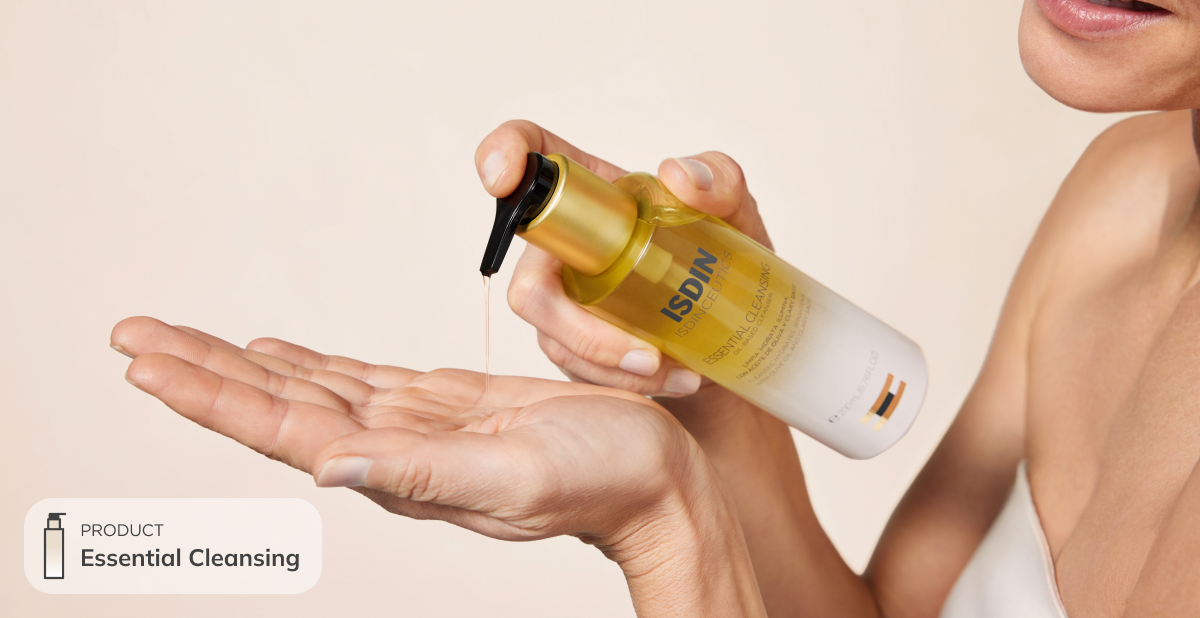 Step 2: Apply a revitalizing eye contour cream
The skin around the eyes is the thinnest on the face. So it can be one of the first to show the signs of skin aging. Opt for an eye cream containing reparative melatonin and energizing caffeine. These super-ingredients help boost the skin's antioxidant defenses while you enjoy your beauty sleep.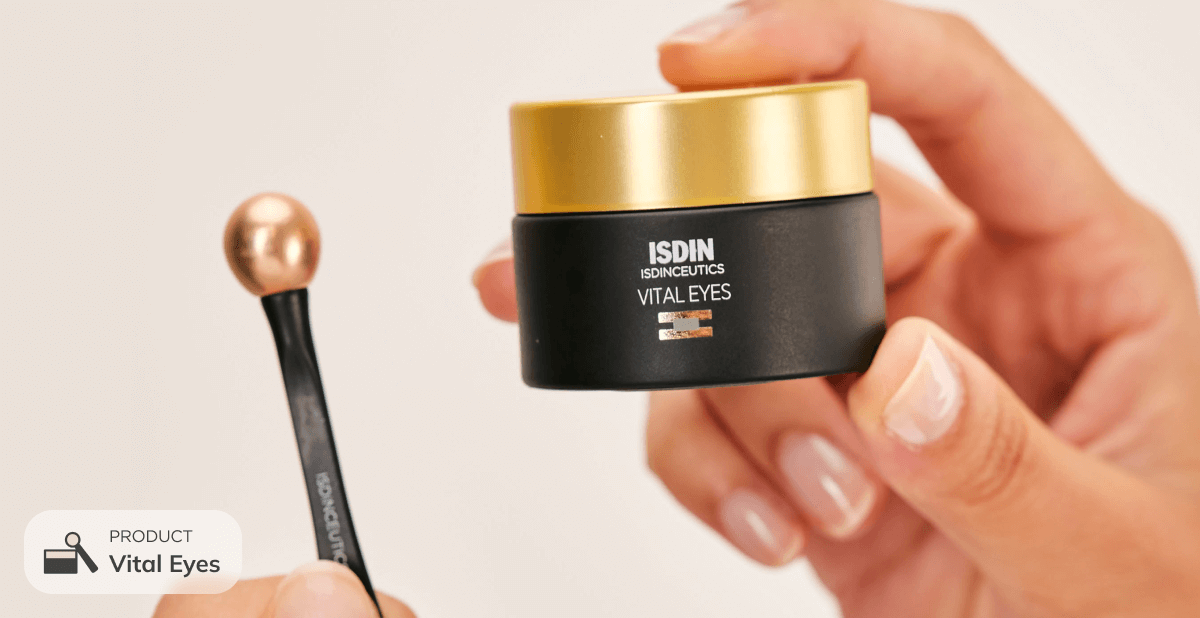 Step 3: Turn to a powerful retinal serum
Make way for dreamy skin. A retinaldehyde serum can help minimize the look of wrinkles and fine lines for smoother, more even, younger-looking skin. Look for a formula featuring soothing ingredients such as niacinamide to help calm while working to renew.
Rejuvenate your skin while dreaming with our dual-phase retinal serum, designed to combat wrinkles and boost renewal.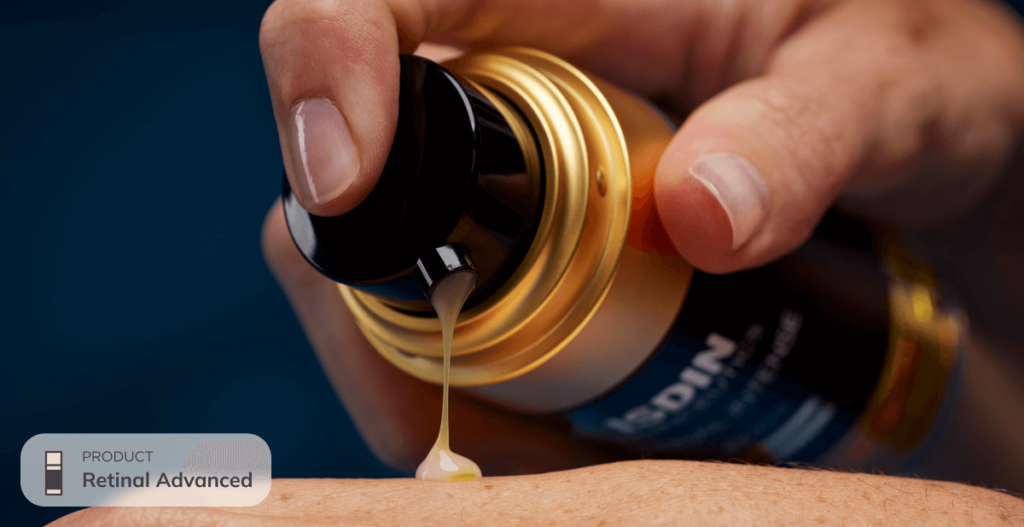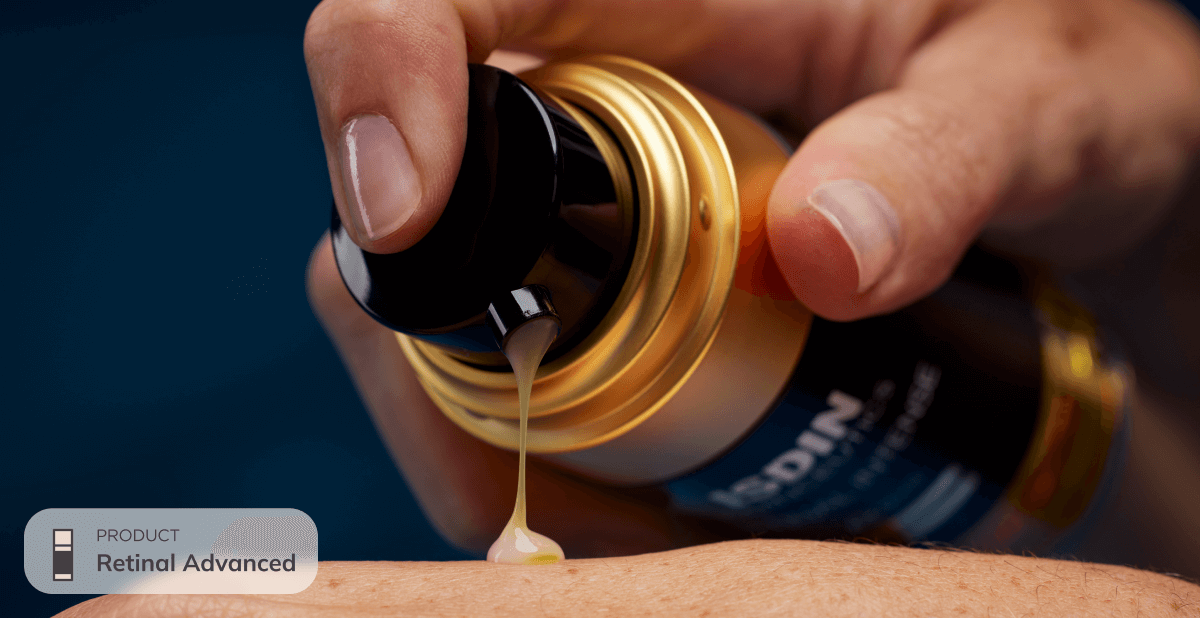 Step 4: Reach for a rejuvenating night cream
After applying your retinal serum, it is time to "seal in" the action with a moisturizer that works to nourish, calm, and firm the skin. Even better if your night cream formula is rich in antioxidants and amino acids such as carnosine. Carnosine works to fight glycation, a natural process that causes the skin to lose its firmness as we age.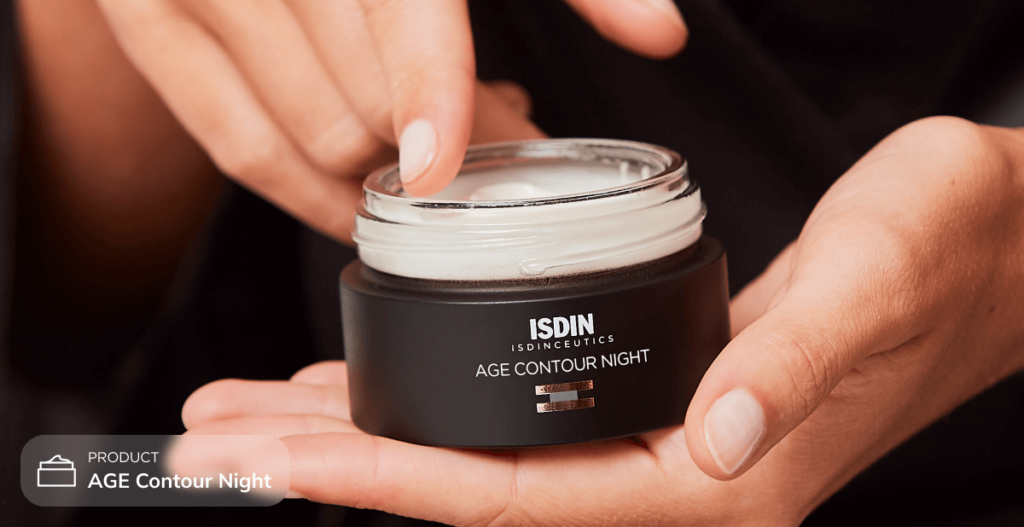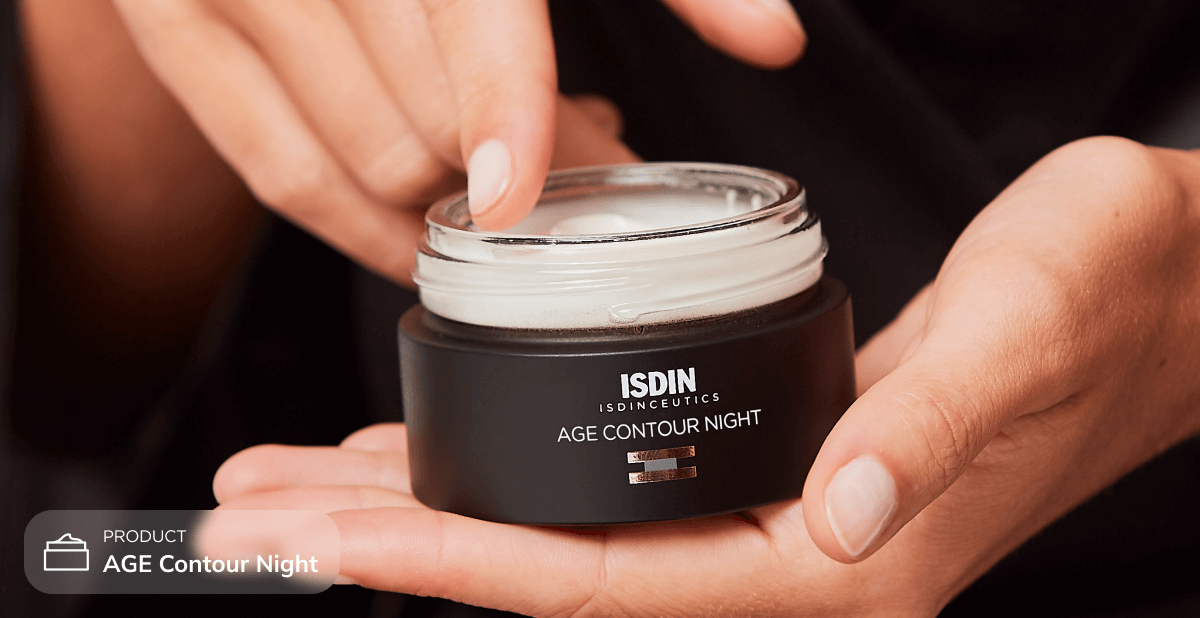 The next day: sunscreen!
Every day, every weather — the final step of your morning skincare routine should always be high SPF, broad spectrum sunscreen. And remember to reapply at least every two hours throughout the day. This is even more important when using retinal as it can make your skin more sensitive.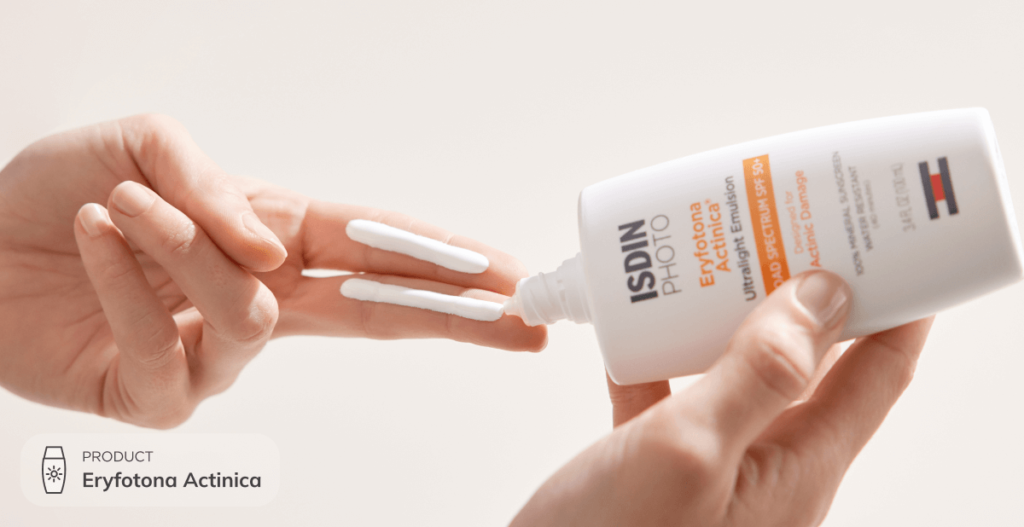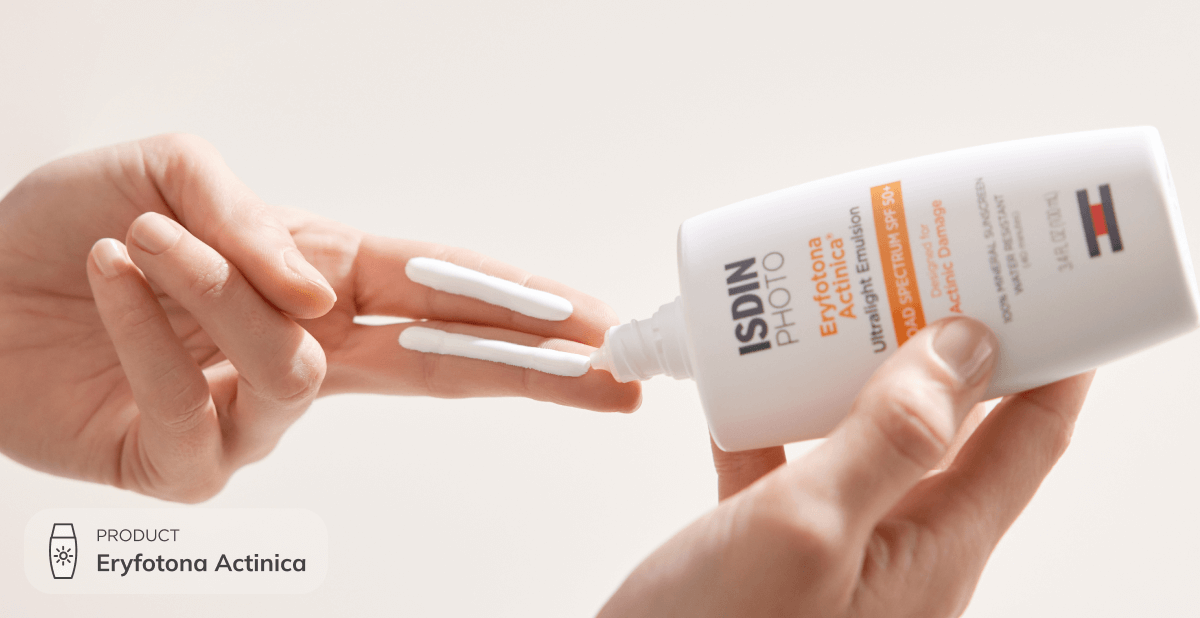 JUST THE FAQs
Can retinal damage your skin?
With the go-ahead from your dermatologist, a retinal formula for all skin types, and a good sunscreen, it's not likely. Make sure to start slow and look for premium retinal skincare products that include skin-soothing ingredients to help minimize any unwanted effects.
But sometimes too much of a good thing can lead to a not-so-desirable reaction. If you overuse retinal, you may experience some burning and peeling sensations past the normal retinization process. The good news is that this should go away once you give your skin a break from retinal.
What happens when retinoids are exposed to the sun?
Maybe you've heard it before — retinoids shouldn't be used in the sun. But why is that? And is it true? Well, partially. While retinal doesn't make your skin more sensitive to the sun itself, it can make your skin more sensitive overall. So it's extra important to use sun protection correctly.
However, retinal itself is sun sensitive — another fact that's led to a few myths. This means if you leave your retinal products in the sunlight or use them in your morning routine, they might be less effective.
What's more effective for wrinkles: hyaluronic acid or retinal?
Hyaluronic acid and retinal are both great options for keeping skin looking smooth, plump, and healthy. But they each have specific qualities for different skin concerns. If you're looking for a powerful ingredient to help fight against the look of wrinkles and uneven skin tone, retinal may be the better option. Meanwhile hyaluronic acid is ideal for those concerned with dry skin.
The best part? You don't have to choose. Using hyaluronic acid and retinal together is a skin-friendly option for a youthful, hydrated complexion.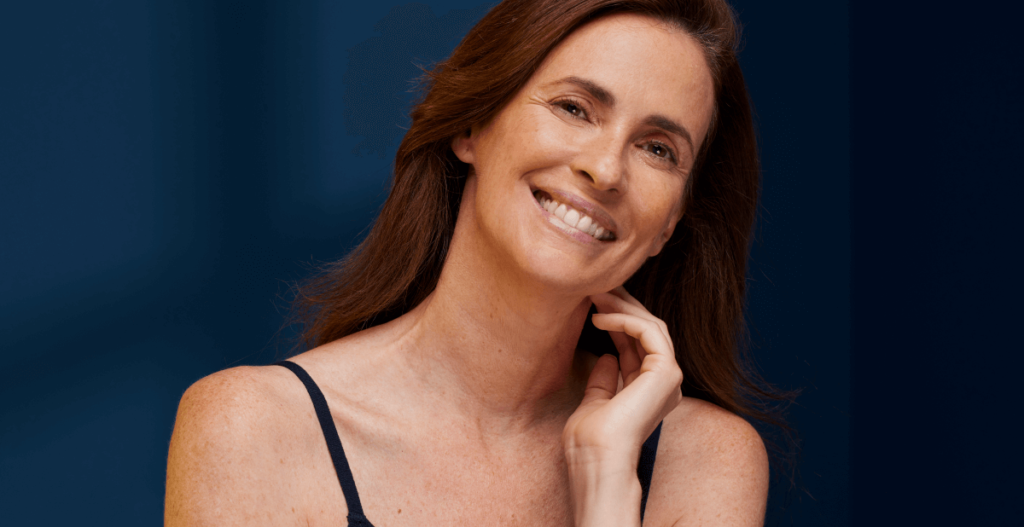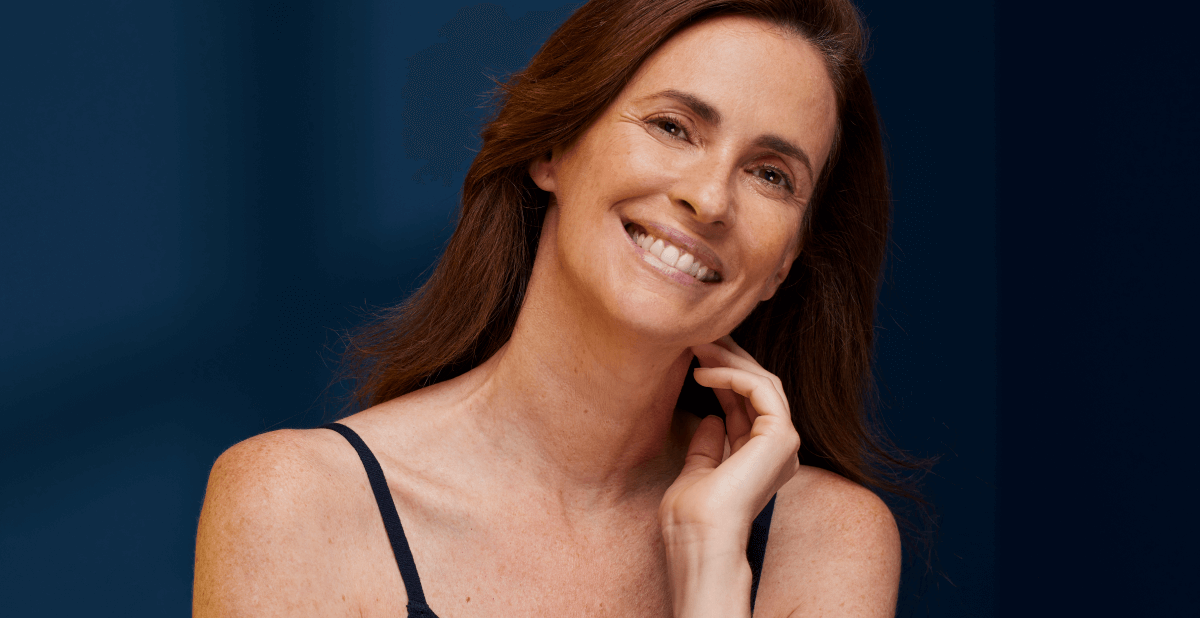 ---
You might also like:
Sources and references:
VanBuren CA, Everts HB. Vitamin A in Skin and Hair: An Update. Nutrients. 2022 Jul 19;14(14):2952. doi: 10.3390/nu14142952. PMID: 35889909; PMCID: PMC9324272.
Draelos ZD, Ertel KD, Berge CA. Facilitating facial retinization through barrier improvement. Cutis. 2006 Oct;78(4):275-81. PMID: 17121065.
Kligman, D., Sadiq, I., Pagnoni, A., Stoudemayer, T., & Kligman, A. M. (1998). High-strength tretinoin: a method for rapid retinization of facial skin. Journal of the American Academy of Dermatology, 39(2), S93–S97. https://doi.org/10.1016/s0190-9622(98)70454-2

Behind the blog:
Article written and reviewed by: