Reading:
4
minutes
Every day, your skin is exposed to environmental stressors. Between pollution, sweat, sebum, cosmetics, and a build-up of impurities (ever thought about how many times you touch your face in a day?), your skin could use a good daily cleanse.
That's why it's the first step, but also a key step in any skincare routine. A consistent facial cleansing routine can help keep the skin clear, vibrant, and functioning at its best. But the benefits of an effective cleanser can go even further. Are you familiar with them all?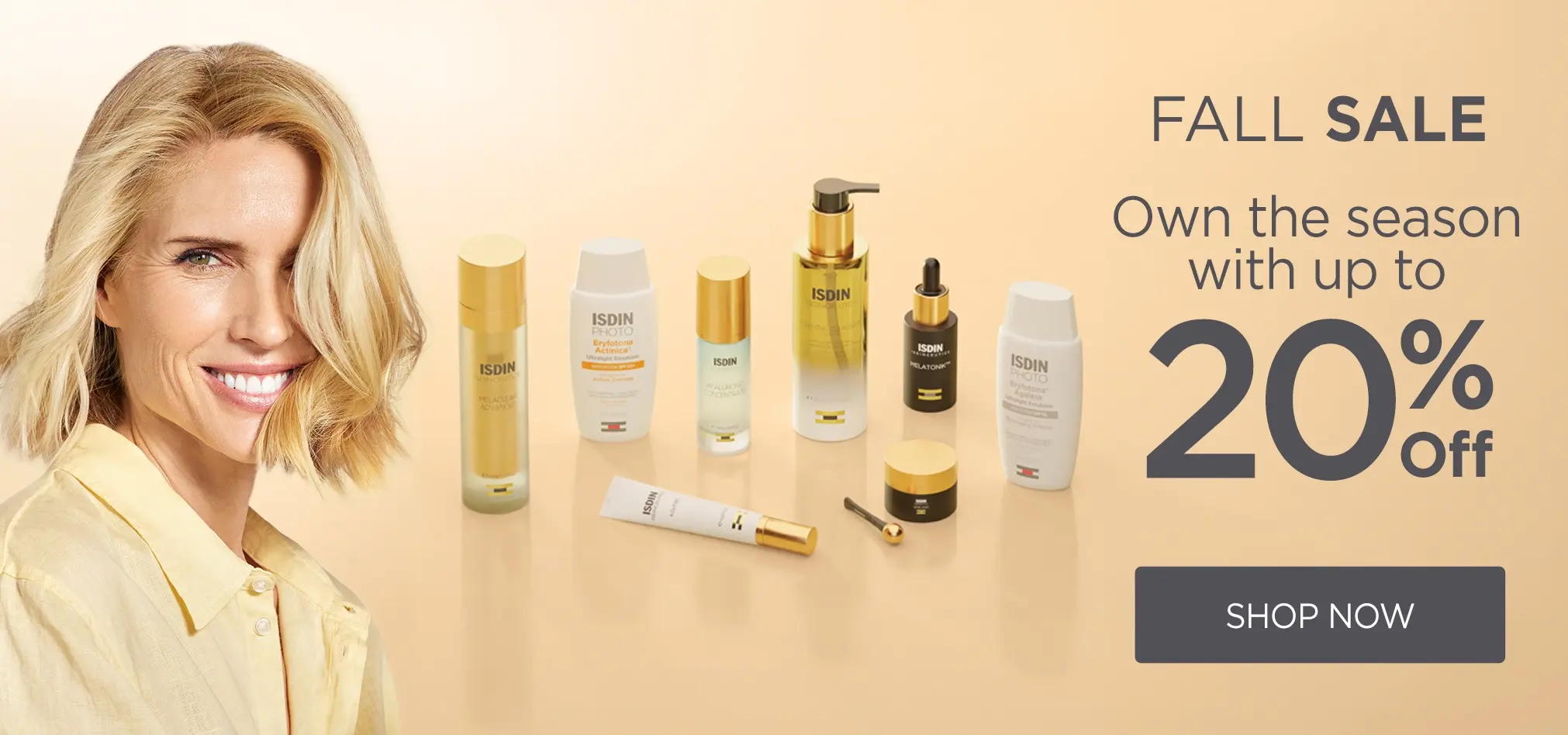 (More) benefits of facial cleansing
It's almost automatic. Brush your teeth, wash your face. But have you ever stopped and thought about the why behind cleansing? First, washing your face regularly helps support your skin's natural processes that keep things clean and healthy.
And as a bonus, keeping the skin free of impurities means that the products you apply can do their job. Here are a few more things that a good face cleanser can do:
Help keep pores clear. Pores help bring natural oils to the surface of your skin, keeping things balanced and hydrated.
Gently exfoliate. Removing dead skin cells can help your skin to feel more even and soft to the touch.
Support the skin's barrier function. Your barrier protects against environmental aggressors that can damage the skin.
How should you cleanse your face?
As the first step, cleansing sets the tone for the rest of your daily skincare routine. Make the most of it with these expert tips:
Always cleanse, whether you're wearing makeup or not
If you thought facial cleansing was only for makeup wearers, think again. Besides makeup, it's key to rid the skin of dirt particles, oily cosmetics, and sunscreen (which you need to be using daily!).
Ideal frequency: twice a day
How often should you use your cleanser? Before bed and in the morning. This will prep your skin for the rest of your skincare routine.
Lukewarm water is the way to go
Excessively hot water can inflame and redden your skin. Use lukewarm water for a soothing cleansing experience.
To avoid irritation, massage your cleanser into your skin gently. If you're using a rinse-off product, pat your face dry with a soft towel.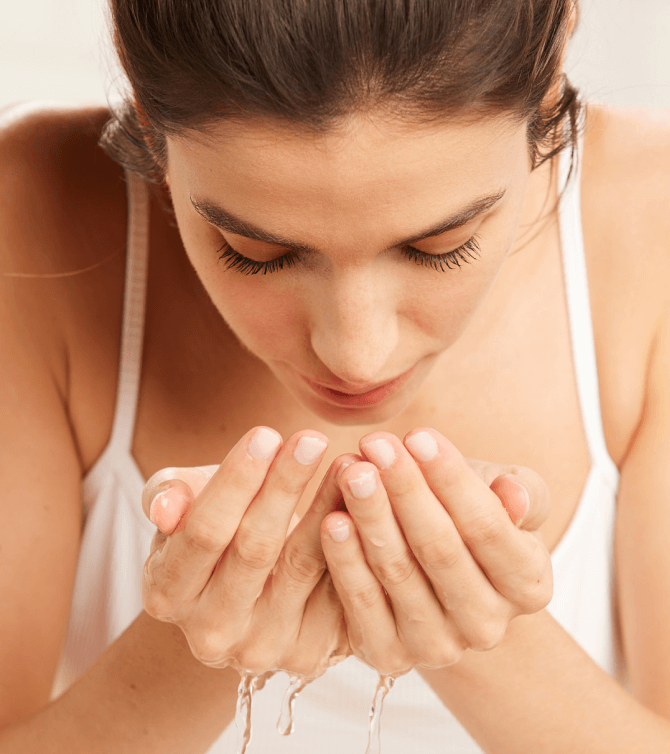 Choose a cleanser that works for your skin
Water alone can't thoroughly cleanse your skin of dirt and oil. So, it's important to find a cleanser that keeps your skin happy and healthy.
Start the search for your perfect cleanser
Choosing one cleanser over another depends on factors like your skin type, your preferences, or how much time you want to devote to your skincare routine.
Not sure what your skin type is or how to start building a routine? Take our quick skincare routine quiz!
Here are two types of facial cleansers that typically work well with all skin types: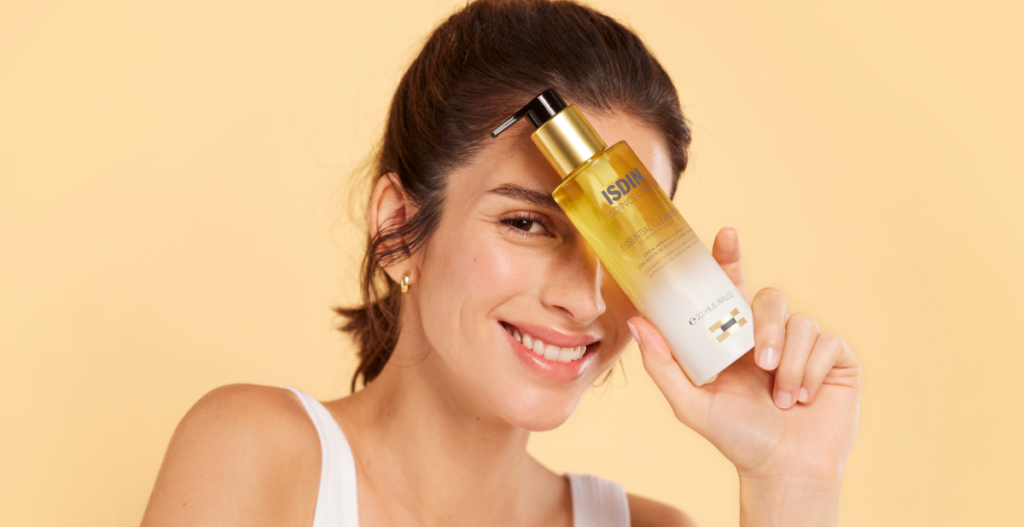 Oil cleanser
Cleansing oils are an industry favorite. If it's not your favorite type of cleanser (yet), now's the time to explore your options. Your skin will thank you later!
Instead of making your skin feel heavy, cleansing oils are great at trapping dirt and removing impurities. How? Oil attracts oil. Simply put, oil cleansers dissolve and remove oil-based substances that accumulate on the face, such as makeup residue, sunscreen, excess sebum, and so on. That means that it's suitable for all skin types, including oily skin.
This award-winning cleanser melts the day away — leaving nothing behind but soft, glowing skin. When it comes into contact with water, Essential Cleansing turns into an emulsion that leaves skin clean, hydrated, and soft.
How to use it:
Apply to a dry face. To remove eye makeup, use your fingertips and massage gently with your eyes closed. Moisten the skin with lukewarm water, massage until the oil turns into an emulsion, and rinse with plenty of water.
This might be your perfect cleanser if you:
Apply makeup regularly (foundation, mascara, eyeliner…)
Live in an urban environment (this formula helps remove any pollution particles on skin)
Are looking for an effective cleanser that leaves your skin hydrated
Enjoy your facial cleansing ritual
Have dry, combination, normal, sensitive or oily skin
Micellar water
When it comes to facial cleansing, we usually only think of products that work when they come into contact with water. But there's actually a very convenient, quick, and effective alternative that removes makeup and deep cleanses the skin — and you don't even need to rinse it off.
We're talking about micellar water. This type of cleanser has a loyal following, and it's easy to understand why. Its secret lies in its micelles, which are tiny particles that trap and dissolve dirt and oil on the skin. These little heroes are similar to the skin's natural composition. So, they can get rid of daily grime, while still being kind to your skin's natural protective barrier.
This fan-favorite formula gently removes makeup and impurities without altering the skin's natural barrier. Even better? ISDIN Micellar Solution also gently tones and moisturizes the skin.
How to use it:
Soak a cotton pad in micellar water and gently smooth it over your face and neck. Remember: no rinse needed!
This might be your perfect cleanser if:
You're looking for an effective cleanser that gets the job done fast.
You're a skinimalist: the 4-in-1 formula removes makeup, cleanses, tones, and hydrates in one single step.
You've got sensitive skin. Its soap-free, alcohol-free, and fragrance-free formula helps prevent irritation.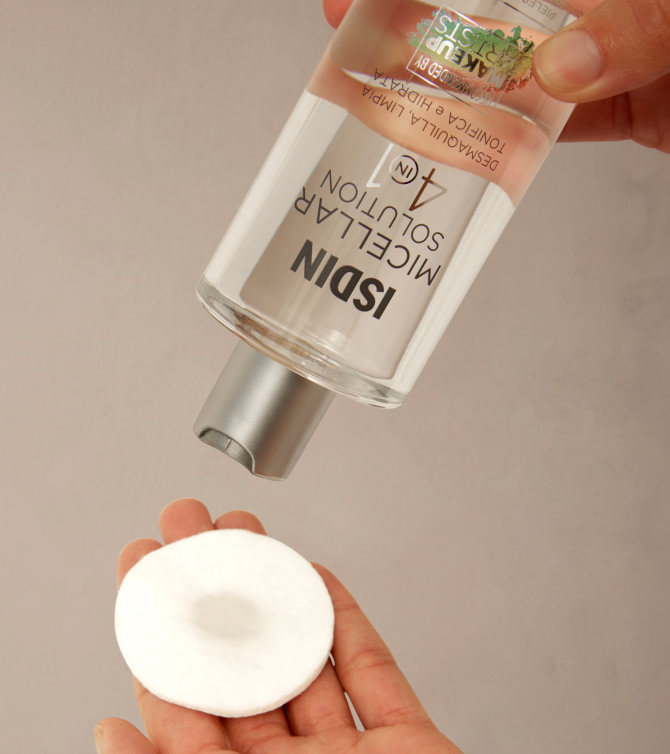 Just the FAQs
What are the five basic steps of skincare?
Here's a simple breakdown of a skincare routine:
Step 1: Cleanse
Step 2: Apply eye contour cream
Step 3: Apply your serum
Step 4: Moisturize
Step 5: Protect skin with sunscreen
Not sure what your skin type is or how to start building a routine? Take our quick skincare routine quiz!
How do I know if I'm over-cleansing?
Skin that feels tight, dry, sensitive, or patchy can signal that you've gotten a little over-enthusiastic with cleansing. But if you've only been washing once or twice a day and things still feel a bit off, your cleanser or cleansing technique might be to blame.
Some cleanser formulas actually contain strong surfactants. So while they can be great at dissolving dirt and unwanted oils, they can also irritate skin and throw its pH off balance.
Try sticking to the tips above and switching to skin-friendly formulas like micellar waters or oil cleansers and see if things change.
Why do I sometimes get more pimples after washing my face?
Dirt and oil are the main culprits in many breakouts. So, washing your skin should make things better right? That depends. If you're washing your face too much or using a harsh, drying cleanser, your skin can start to overcompensate and produce more oil.
That's actually one of the reasons why oil cleansers can be a great choice for acne-prone skin. They work to attract and remove excess oil — keeping things balanced overall.
---
Now that you know what kind of facial cleanser works for you, it's time to add it to your daily routine. Happy, healthy, beautiful skin to follow!
Behind the blog:
Article written and reviewed by: