Betalfatrus
Nail lacquer
Visible results in 14 days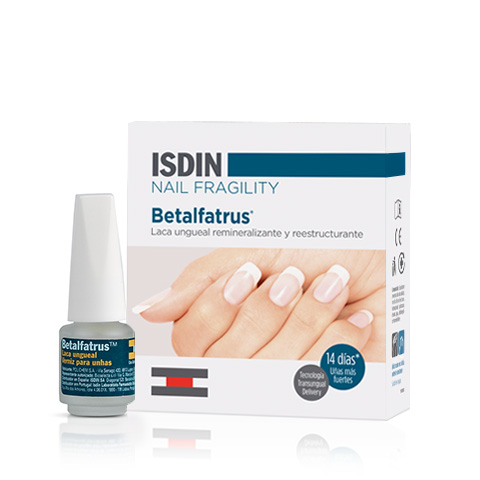 Compra el producto online
Encuentra tu farmacia
Overview
Restructures and remineralizes damaged nails affected by fragility and localised pain, which are common symptoms of many nail inflammatory conditions, like nail psoriasis.
Benefits
Significantly strengthens brittle nails and reduces cracked nails due to its Equisetum arvense (Horsetail) content, source of the organic mineral silica
Restructures nails thanks to Methylsulfonylmethane (MSM), a natural source of organic sulphur, significant component of keratin and nail proteins
Facilitates the concentration and penetration of active ingredients due to its hydroxypropyl-chitosan (HPCH) content through the application of Transungual Delivery technology
Encourages nail growth and healthy-looking nails
Water soluble, fast-absorbing and easy to use
Invisible and odourless
How to apply
Apply once a day. As it is water-soluble, Betalfatrus should be applied after washing and drying your nails, preferably before going to bed so as to maximise the contact time with the product before contact with water.
Composition
Equisetum arvense. Methylsulfonylmethane. Hydroxypropyl-chitosan.