Ureadin Fusion
Melting Cream
Facial Dermoactive Hydration + Nourishing
Dermoactive hydration that nourishes your skin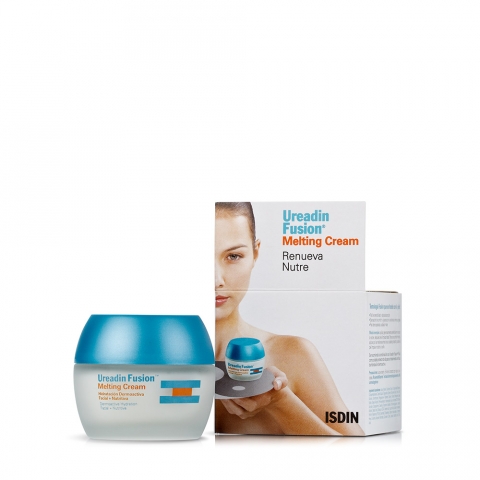 Overview
Daily facial nourishing moisturiser for normal to dry skin.
Benefits
Activates cell renewal and prevents the signs of cell ageing due to its creatine content.
Provides your skin with essential lipids that strengthen skin structure thanks to Ceramide-3.
Rebalances the hydrolipidic film and maintains skin elasticity due to its shorea butter content.
Urea ISDIN provides 24h intense hydration. Its Melting Cream texture melts into the skin, maximising its moisturising and nourishing action.
How to apply
Apply to clean, dry skin on the face and neck, preferably in the evening, after normal facial cleansing.
For extra nourishment, also apply in the morning before your protective care.
For best results, use combined with Ureadin Fusion Fluid daytime facial moisturiser.
Composition
Urea ISDIN 3%.
Creatine: activates cell renewal.
Ceramide-3: provides essential lipids.
Shorea butter: maintains skin elasticity.