Ureadin
Rx Rd
Moisturizing lotion
Increases the likelihood of maintaining healthy skin after radiotherapy by 50%.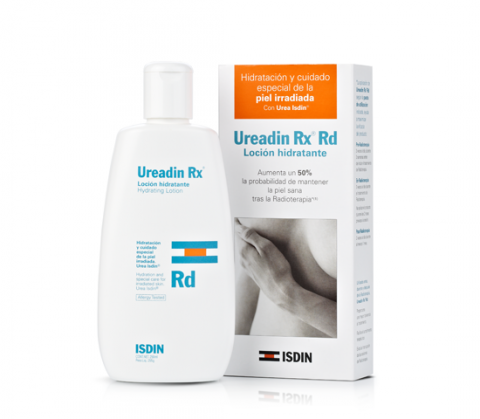 Overview
Protection and prevention against of the signs of skin toxicity associated with radiotherapy, such as redness, flaking, itchiness, dryness and discomfort.
Adjuvant to irradiated skin treatments.
Benefits
Prevents dehydration and flaking caused by radiotherapy due to the action of Urea ISDIN 3% and glycerin.
Helps alleviate itchiness and the appearance of signs of skin toxicity due to its content of polidocanol and niacinamide.
Stimulates physiological mechanisms of skin regeneration thanks to the effects of arginine, allantoin and vitamin E.
How to apply
Pre-radiotherapy: apply three times a day over the course of the 3 weeks prior to starting radiotherapy treatment.
During radiotherapy: apply three times a day during radiotherapy treatment. Do not apply the product during the 2 hours before starting a radiotherapy session.
Post-radiotherapy: apply twice a day for at least 1 month.
Composition
Urea ISDIN 3%.
Glycerin.
Polidocanol.
Niacinamide.
Hyaluronic acid.
Panthenol.
Arginine.
Allantoin.
Vitamin E.