Ureadin
Podos Db
Cream
Protects against fragility and helps to repair cracks of diabetic skin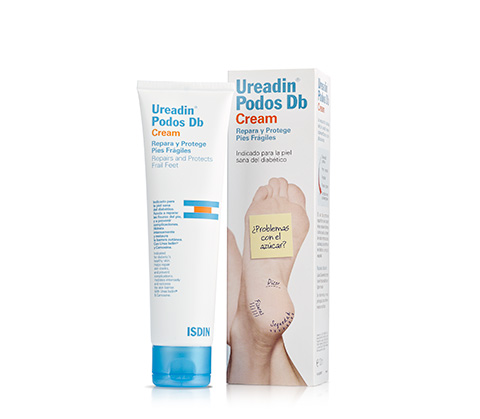 Overview
Cream to control dryness, cracks and itching of healthy diabetic feet.
Benefits
Protects feet's from frailty, helping strengthen their natural mechanisms thanks to arginine and carnosine.
Helps repair cracks in feet and prevent further complications due to Rosehip and BioEcolia.
Alleviates ithching and foot discomfort caused by dryness thanks to Polidocanol.
Intensely hydrates and restores the skin barrier thanks to Urea ISDIN.
How to apply
Apply mornings and evenings, gently massaging the skin of the feet.
For best results, use regularly and for an extended period.
Composition
Urea ISDIN 5%
Polidocanol
Centella asiatica triterpenes
Rosehip oil
Allantoin
Panthenol
Arginine
Hyaluronic acid
Beta-glucan
BioEcolia
Sodium dextran sulphate