Ureadin
Podos
Anti-callus pack
Callus-free feet from day one!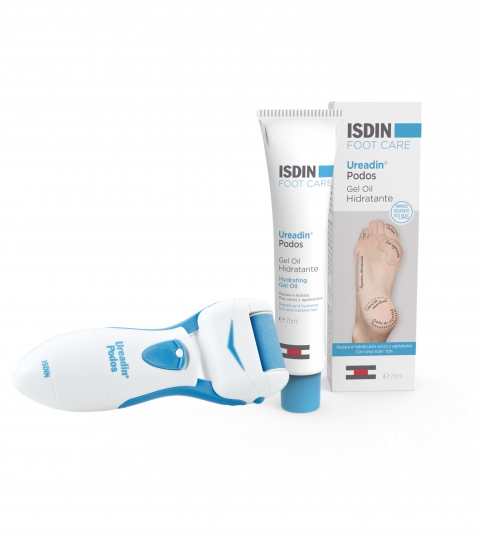 Overview
Eliminates rough, uneven and thickened skin from the heel and sole.
Benefits
Ureadin Podos Gel Oil has a light, fresh, non-oily texture and is absorbed rapidly. This means that it can be used daily for maximum effectiveness.
Feet look better after just one application! Using an electronic file combined with Ureadin Podos intensive hydration reduces hardness and cracking.
How to apply
For calluses:
1- Use the file on clean, dry skin. Use it only on the tougher parts of the foot, leaving it to act for three seconds or less.
2- Repeat the process until you obtain the desired result.
3- After finishing, moisturise with Ureadin Podos Gel Oil.
Maintenance
Once calluses have been eliminated, use Ureadin Podos Gel Oil once daily for maintenance. This will help to prevent further dryness.
Composition
Urea ISDIN 10%. Lactic acid. Bacillus ferment. Allantoin. Arginine. Hyaluronic acid. Panthenol.