Retisdin
D-Contract
Eye care gel-cream
Corrective effect for expression wrinkles, eye bags and dark circles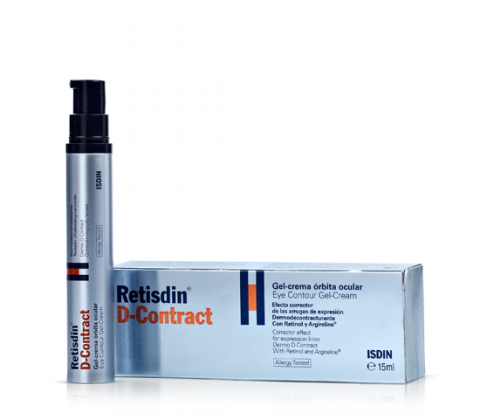 Overview
Recommended for the correction of expression wrinkles in the periocular area.
Benefits
The revitalising action of bisabolol and sodium dextran sulphate reduces bags and dark circles.
The effect of dexpanthenol and pure retinol encased in cyclodextrins, that remains stable when exposed to UV radiation and oxygen, regenerates and renews the skin.
Its argireline content and the action of hyaluronic acid reduce the depth of expression wrinkles, smooth the skin and improve elasticity.
Vitamin E provides an antioxidant effect which helps inhibit the production of free radicals.
The gel cream has a fresh texture that is easy to spread and rapidly absorbed.
How to apply
Apply daily, every morning and evening, gently using your fingertips to spread the product with light dabs around the eye area until completely absorbed.
Composition
Bisabolol and sodium dextran sulphate. Dexpanthenol and pure retinol encased in cyclodextrins. Argireline and hyaluronic acid. Vitamin E