Nutraisdin
ZN 40
Repairing Ointment
Restores and protects sensitized skin. With proVitamin B5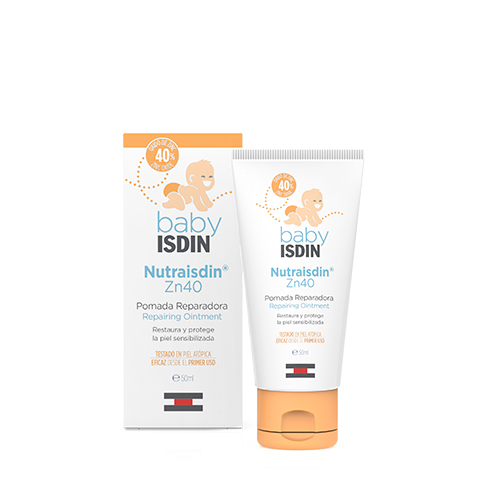 Overview
Specific formula for the nappy area that restores and protects the most delicate skins.
Benefits
Unique formula with 40% zinc oxide (ZN 40) that provides:
- Effective repair: combines astringent, regenerating and hydrating ingredients that help regenerate the cutaneous barrier and improve the soreness and irritation of nappy rash.
- Maximum protection: thanks to its formulation with 40% zinc oxide, it offers superior protection in delicate and/or atopic skin and in periods of prolonged exposure to the diaper.
How to apply
As a protector: apply a thin, even layer to clean, dry gluteus and genital area skin after every nappy change.
As repair treatment: apply during 2-3 days on every nappy change. In case of persistent irritation, consult your paediatrician.
Composition
Zinc oxide 40%
Dexpanthenol 1.5%
Shea butter
Glycerine
Anhydrous excipient