Maskream Hydrogel Mask Mattifying
90% mattified skin*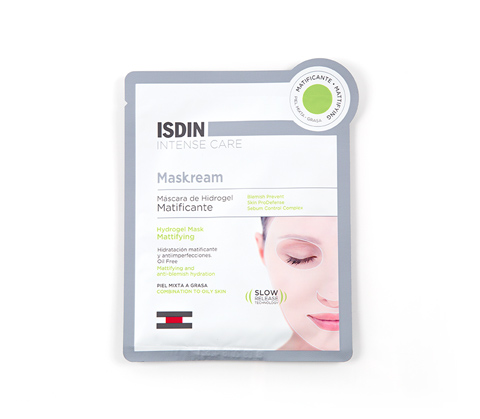 Benefits
Mattifying hydrogel face mask with Slow Release technology for an immediate and long-lasting effect. Its concentration of active ingredients helps reduce shine and imperfections thanks to its sebo-regulating and balancing effect. Skin tone is visibly improved, leaving the skin balanced, intensely moisturised and mattified.
How to use
Wait for the ideal moment and setting to relax for a few minutes and spoil your skin:
1. Remove the mask from the cover and unfold it. You will see that it has a protective film on each side; remove one of them.
2. Carefully place the mask on your face, adjusting it comfortably around the eyes.
3. Remove the protective film from the outside.
4. Adjust the mask to the contours of your face. Relax and let it work for 20 minutes.
5. Remove the mask.
6. Gently massage in the remaining serum with your fingertips until it is fully absorbed.
Composition
Sebum Control Complex Its Oil-Free formula (with no mineral oils) with Sebum Control Complex visibly improves the appearance of pores and helps balance the skin by regulating ceramide and fatty acid levels. Sebum is controlled and pores are reduced, leaving the skin clean, fresh and mattified.
Skin ProDefense: Strengthens the skin's natural protection, helping to enhance its natural defences (Skin ProDefense).
Blemish Prevent: Helps reduce the appearance of imperfections with Blemish Prevent.