Maskream Hydrogel Mask Active Unify
77% more uniform tone*
All skin types. Pigmentary alterations.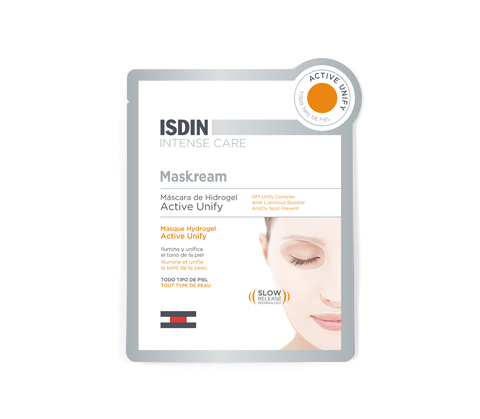 All skin types. Pigmentary alterations.
Benefits
Hydrogel illuminating face mask with Slow Release Technology for immediate and lasting effect. Its concetrate of active ingredients improves the unifomity of skin tone, giving a visibly revitalized and uniform appearance.
How to use
Wait for the ideal moment and setting to relax for a few minutes and spoil your skin:
1. Remove the mask from the cover and unfold it. You will see that it has a protective film on each side; remove one of them.
2. Carefully place the mask on your face, adjusting it comfortably around the eyes.
3. Remove the protective film from the outside.
4. Adjust the mask to the contours of your face. Relax and let it work for 20 minutes.
5. Remove the mask.
6. Gently massage in the remaining serum with your fingertips until it is fully absorbed.
Composition
DP1 Unify Complex: Illuminates the skin, uniting the tone.
AHA Luminous Booster: Its gentle exfoliating action allows the skin to regain its luminosity and shine.
AntiOx Spot Prevent: Combats free radicals and strengthens the skin barrier helping to prevent the appearance of new spots.