Isdinceutics
B.R.A Peeling
Rejuvenating treatment with peeling effect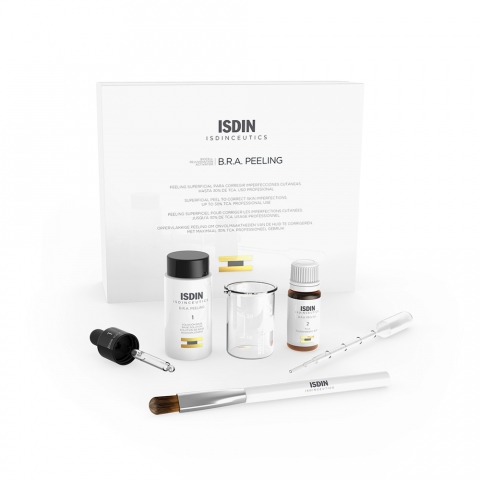 Overview
The indications for using B.R.A Peeling are directly dependent on the concentration of trichloroacetic acid (TCA) that is being used:
15% TCA
Dyschromia
Open pores
Fine expression lines
Irregular skin texture
Subdued and uneven tone
30% TCA
Dyschromia
Medium-to-deep wrinkles
Sun or age spots
Scars
Benefits
Biocell Rejuvenation Activator (B.R.A.) Peeling is an innovative rejuvenating treatment that corrects skin imperfections on the surface such as wrinkles, subdued and uneven tone, irregular texture, superficial scars, dyschromias, hyperkeratosis, dilated pores…
How to apply
B.R.A. Peeling is a treatment that must be exclusively applied by a sanitary professional. Consult your doctor and he/she will recommend the best course of action for every situation.
For the most optimal result, more than one session is required
The ideal treatment would be 4 sessions, starting treatment with a TCA concentration of 15%
Respect, at least, 8 days between each session
Avoid solar exposure and do not use artificial tanning systems between sessions and during the first 15 days after treatment
Composition
TRICHLOROACETIC ACID (TCA): Acid with a peeling action
L-ASCORBIC ACID: Stimulates the synthesis of collagen fibers
PHYTIC ACID: Antioxidant that lightens skin tone. Provides luminosity and improves skin texture
NATURAL ORIGIN EXTRACTS: Act against the reappearance of spots and guarantee protection against free radicals