Everclean
Facial Brush & Purifying Gel
Maximise the power of cleansing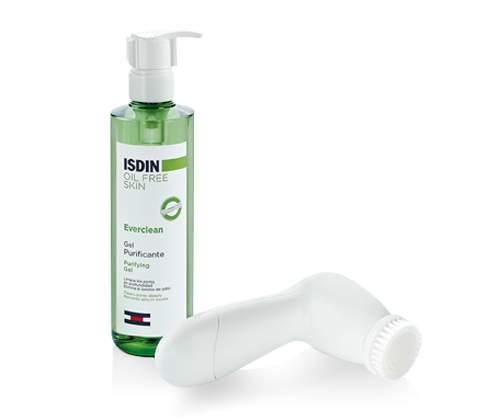 Overview
Recommended for skin with excess of sebum, blocked pores and blemishes.
Benefits
Eliminates over 78% of facial oiliness.
By using Everclean Cleansing Gel and Facial Brush you will eliminate excesses of sebum, unblock pores and reduce redness, pimples and blemishes.
How to apply
1. Moisten skin and the brush head with water.
2. Put some Everclean Purifying Gel into your hand and massage into your face.
3. Turn on the facial brush and gently move it over your face for 1 minute, using circular movements and without applying any pressure. Avoid the eye area.
4. Begin cleansing the face as follows: Lower third, middle third, nose and forehead. It is recommended to use the brush for 20 seconds on the forehead, 20 seconds on the chin area, 20 seconds around the nose and 10 seconds on each cheek, avoiding the eye area.
5. Rinse with water and gently pat dry with a towel.
Only to be used on oily and non sensitive skins. Contains salicylic acid. While using it, some irritations may appear. In case of them, please stop using the product and we recommend you visit a doctor or dermatologist.
Composition
Everclean Purifying Gel
Electric facial brush
2 AA batteries
2 brush heads