CitroBand
ISDIN Kids Spider-Man
Wristband with citronella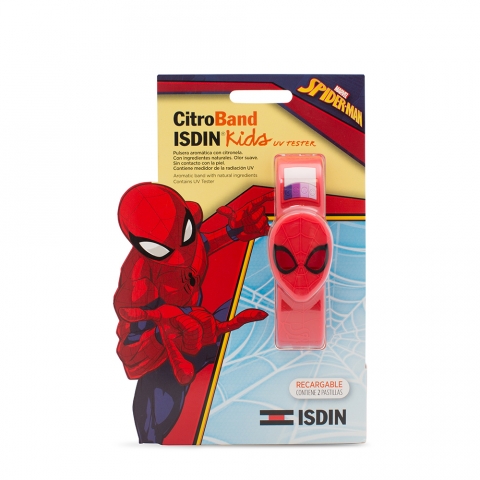 Wristband with citronella
Benefits
The ISDIN Kids CitroBand with citronella has a mild, pleasant aroma.
The wristband also contains a UV radiation indicator. Contains a photosensitive material that changes colour depending on the intensity of the sun's UV rays.
Can be worn as long as needed. Tablets should be changed every 12 days. Each ISDIN Kids Citroband is supplied with two refills, providing protection for one month.
Suitable for children aged 3 years and older. Water resistant. Complements repellent sprays.
How to use
1.- Remove the tablet from its protective sleeve.
2.- Insert the tablet into one of the openings at the back until it locks into place. DO NOT INSERT FROM THE SIDE
3.- Join both parts, inserting the band through one of the openings at the back and pulling it through the other, until the active part is in the middle.
Composition
Contains all natural ingredients. Aromatic essence-diffuser tablet. Contains citronella.