Antiverrugas ISDIN Anti-warts Solution
The ultimate formula against warts
Indicated for the treatment of skin warts
20 ml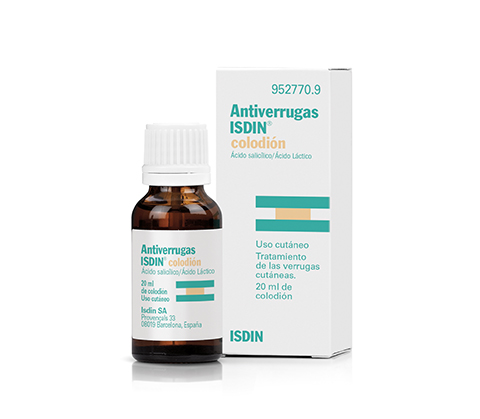 Indicated for the treatment of skin warts
20 ml
Benefits
Keratolytic formula with a practical dispenser for localised action. Painless and safe: suitable for application to delicate skin.
How to use
Gently rubs the warts off. Apply 1 suitably-sized drop, ensuring that it does not come into contact with the healthy skin surrounding the wart, as this could cause redness and/or burns. Protect this area with an ointment or oily cream (Vaseline). Leave to dry and dress with a bandage for 12 hours. Repeat until the wart has disappeared and has been replaced with a gap. From the 4th or 5th day, start to trim the most necrotic parts (superficial part of the wart).
Composition
Salicylic acid. Lactic acid. Elastic collodion.