FLAVO-C
Serum
8% vitamin C
Anti-oxidant serum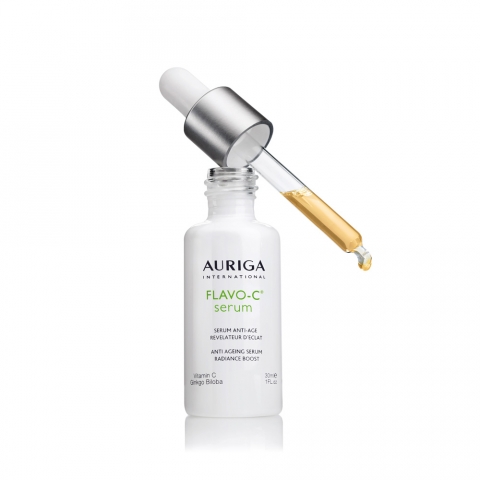 Overview
Hydration, wrinkles and uneven skin tone. FLAVO-C® cream is a hydrating cream based on hyaluronic acid, vitamin C and a polysaccharide complex that has an effective anti-aging action. It maintains the structure of the skin, restores its vital hydration and rebuilds its natural lipid protective barrier. Constitutes the ideal complementary care to FLAVO-C® serums. Apply morning and evening after the serum on the affected areas (face, neck and décolleté).
Benefits
Highly concentrated in vitamin C in its active form (L-ascorbic acid) and ginkgo biloba, this serum acts visibly on the signs of aging. The skin is smooth, unified and luminous. Immediate visible results for the skin! The essential serum for a smoother, unified and brighter skin.
How to apply
Apply morning and evening before any other care on the face, neck and neckline.
Composition
Vitamin C (L-ascorbic acid): promotes the synthesis of collagen and elastin.
Ginkgo Biloba: powerful antioxidant.
Propylene Glycol, Aqua, Ginkgo Biloba Leaf Extract, Ascorbic Acid, Polysorbate 20, Polysorbate 80, Imidazolidinyl Urea, Phenoxyethanol, Methylparaben, Ethylparaben, Propylparaben, Butylparaben.