Ureadin
Podos
Gel Oil. For dry, cracked skin
Repairs and hydrates Dry and Cracked Feet. Proven effectiveness in 3 days.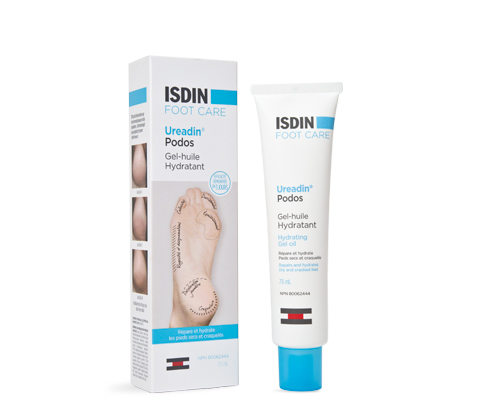 Overview
Eliminates hard skin, roughness and thickened skin on the heel and sole of the foot.
Benefits
Repairs cracked skin caused by dryness thanks to allantoin, panthenol and shea butter .
Eliminates moderately hard skin, roughness and thickened skin thanks to the exfoliating action of lactic acid.
Intensely hydrates thanks to Urea ISDIN, which retains water and ensures optimal hydration levels.
Gel Oil Texture: fresh, light, non-greasy with rapid absorption to maximize product efficacy.
How to apply
Apply twice daily on clean, dry skin, repeating on dryer and rougher skin specially in the driest and roughest areas. Continue using once per day in order to ensure that dryness does not reoccur.
Composition
Urea ISDIN 10%.
Lactic acid.
Bacillus ferment.
Allantoin.
Arginine.
Hyaluronic acid.
Panthenol.