Nutratopic Pro-AMP
Facial cream
Atopic skin
Moisturizes and restores the skin's natural barrier, provides instant comfort and relieves itching.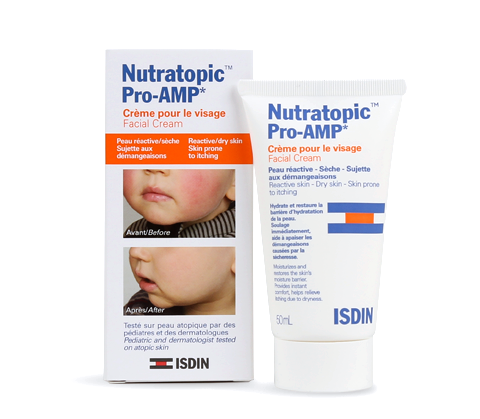 Overview
Prevention, care and reduction of the main visible symptoms of infantile facial atopic dermatitis: itchiness, dryness, flaking, erythema and skin oedema.
Benefits
Helps to control the signs of atopic dermatitis with a unique dual active protection of the skin's defence system:
- Increases the production of antimicrobial peptides (AMPs), which are the skin's first line of defence, through the action of L-isoleucine.
- Restores the skin barrier.
Rapidly absorbed. Its lamellar structure blends with the skin.
How to apply
Apply twice a day to the face. As adjuvant for symptom control and as maintenance in remission periods.
Composition
L-isoleucine.
Rhamnosoft.
Glycine.
Ceramide.
Shea butter.
Squalane.
Glycerin.
Trimethylglycine.
Hydrogenated lecithin.