Fotoprotector ISDIN Pediatrics
Transparent Spray
WET SKIN SPF 50+
The only transparent spray to be applied to wet skin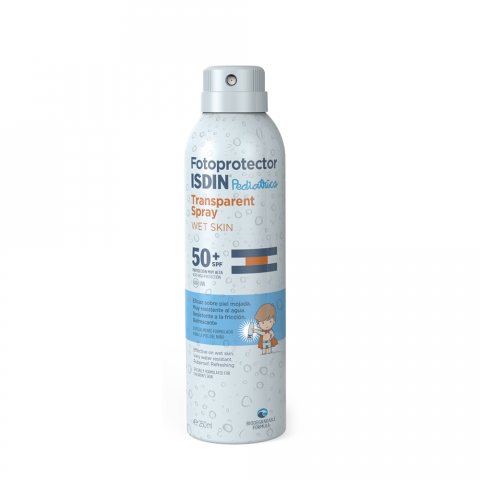 Overview
Daily protection for children's fragile skin. Especially formulated for children who spend a lot of time in the water, as it can be applied to both wet and dry skin.
Benefits
The Wetflex technology is water permeable and is absorbed into wet skin without leaving a white residue, whilst maintaining the protection factor. Suitable for application on any part of the body, including hard-to-reach areas, thanks to the 360 valve that releases the spray continuously and evenly and works in any position.
How to apply
Apply liberally to dry skin half an hour before sun exposure. Apply 2 mg/cm² of the product; reducing this quantity will reduce the protection factor. Reapply every 2 hours or after sweating, swimming or drying with a towel.